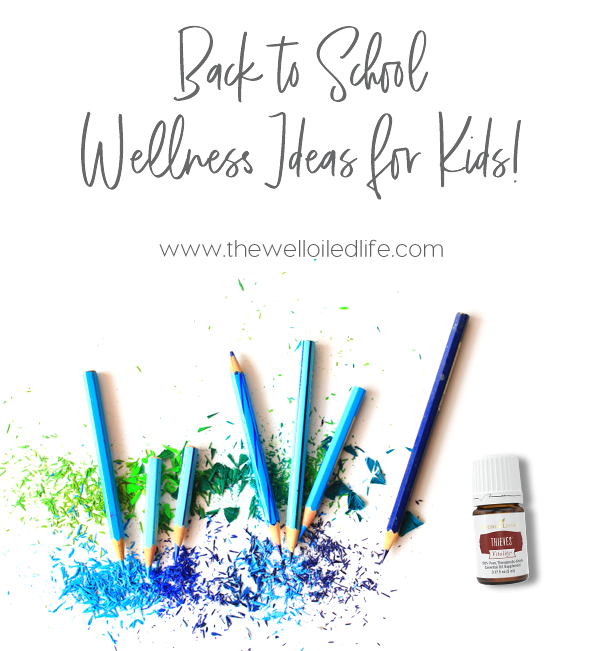 As a mama, one of the most important jobs I feel like I have is doing my best to keep my kids healthy and well!  This is one of the first reasons we started using essential oils in the first place.
Watch my recent video on all the things I stock up on at the beginning of the school year, or continue reading below!
In a nutshell, HEALTH-WISE, there are 4 areas I look to support my kids in during the school year: immune support, emotional support, focus, and sleep.  The items below are our favorites!
Oils and Products for the Body
Thieves – We use Thieves oil on their feet every school day, in the morning.  Thieves Vitality is great to make Thieves Tea with, since it can help support the respiratory and immune systems.  Warm water + honey + 1-2 drops Thieves Vitality = Thieves Tea
Immupower – This one is stinky, but it's a powerhouse blend!  We use this on their feet at night.  It contains Oregano, Cumin, and many others.
Oregano – I will rotate Oregano with Immupower at night, so I like to keep this on hand as well.
RC + Lavender – When the seasons start changing, RC and Lavender are some of our favorites.  These are great in the diffuser, or I will put them on the bottoms of their feet and on their neck/chest.
NingXia Red – This drink supports overall wellness and provides powerful antioxidants.  I love to have this on hand once my kids go back to school in case they need some extra support.
Probiotics – We know a large part of our immune system resides in our digestive tract!  We can make sure our gut is populated with good gut bacteria (instead of bad) by making sure we are getting probiotics.  Young Living just released Kidscents MightyPro as a probiotic for kids!
Kidscents oils – the Kidscents line of oils is great to have on hand, especially once school starts.  These oils include Geneyus (for focus), Owie, SleepyIze, SniffleEase, and TummyGize.  These oils are great for bigger kids (and adults!), too!
For the Diffuser
For clarity and focus during homework time, oils like Peppermint, Brain Power, Clarity, or Geneyus are great choices.  The combo of Lavender, Cedarwood, and Vetiver is another great choice for focus.
Those dark, early mornings can be tough!  Diffusing oils like Joy + Lemon or Orange, Peppermint, or any of the citrus oils on their own can help with those early morning wake ups.
To help relax and wind down before bed so you can get a good night's rest, Lavender, Peace & Calming, or Cedarwood (on its own or with Orange) are great choices.  You could also use those topically on your feet or wrists. Tranquil Roll-On is another great oil to use before bed topically.
For Jitters
First-day jitters are no joke!  Some oils we've found to be helpful are Stress Away, Valor, Cedarwood + Orange, and Bergamot + Joy.  We use these on the feet, wrists, or in diffuser jewelry.
Necessary Thieves Items!
These items are on our must-have list to keep the grime from school at bay!
Thieves Foaming Hand Soap
Thieves Household Cleaner (we clean all our devices when they come home from school!)
Thieves Hand Purifier (enough said!)
Thieves Wipes – I send these in my daughter's lunchbox so she can WIPE her hands if she doesn't get a chance to wash her hands before lunch
I hope this list is helpful as you start another school year!  We have definitely noticed a difference in our wellness by using what's on this list here.
If you still haven't gotten started with Young Living, you can get started here!