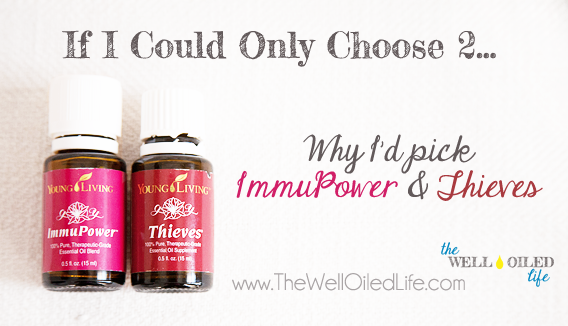 I've realized something this winter… I have not needed to use as many of my wintertime oils as I thought I would by this point in the year.
Let me clarify what I mean by wintertime oils – these are the oils I stocked up on before school started in the fall so I could be prepared for the winter season.  Things like Thieves, RC, Raven, Eucalyptus, and DiGize.  The oils that, as a mom, if you run out, you are GOING TO WANT THEM OVERNIGHTED!!  :)
Thieves for Immune Support
We've been 'oiling' for a little under a year now, so we had oils for the tail end of the winter months last year.  Our mainstay was Thieves oil, which may be helpful in supporting the immune system.  We have never had such a pleasant and easy going winter.  :)
ImmuPower: My New Addition
This year, after hearing about it over and over, I decided to add ImmuPower.  When the immune system is working properly, it can obviously do its job and keep our bodies healthy.  I hesitated at first because ImmuPower is one of the pricier oils, and I thought, "Is it really going to make a difference?"  I asked some questions to my oily friends before I purchased it, and everyone told me they loved it.  So I decided to just bite the bullet and buy it.
Stinky!!
Unfortunately the first thing I noticed about ImmuPower is that it is STINKY!  If you like walking around smelling like a bowl of chili, then maybe you will like it.  To me the overpowering smell in this oil blend is cumin.  So I think it smells like straight BO (yes, as in Body Odor).  PeeYou. (Is there a correct way to spell that?  I can't figure it out. P.U.?  Oh well, you know what I mean.  Sorry.)
I don't know why it smells so much like cumin, because there are several oils in this blend… hyssop, mountain savory, cistus, ravensara, frankincense, oregano, clove, cumin, and Idaho tansy.  So it is a completely different blend than Thieves oil… in fact, the only oil ImmuPower and Thieves share is clove!  But the individual oils that make up ImmuPower are definitely some heavy hitters.  :)
Our Routine
Because ImmuPower is so stinky (to me anyways… I hope I haven't offended you if you love the smell of it), I only apply it to my kids' feet, under their socks.  So every morning before school, I do this for each child… I take one drop of ImmuPower and apply it to their feet.  Then we use Thieves.  Before bed, I do the same oil routine.
A Definite Difference
Beyond a doubt, we have absolutely noticed a positive difference in our children's overall health and well being.  We have used our other wintertime oils less, because my kids have maintained their wellness much better this year.  Granted… their immune systems only continue to mature over time and this could be due to several factors, but I can't help but feel that the addition of ImmuPower has been a benefit as well.  If I was FORCED to choose only 2 oils, I would have to pick Thieves and ImmuPower.  After all, the main reason we started using oils was to support our kids' immune systems!
I Would Overnight These if Necessary…
If I ran out of Thieves or ImmuPower, you bet I would have them overnighted.  :)  I really believe these 2 oils have helped my kids so much this year!  I am so thankful to have all my other oils on hand for the winter, but these 2 oils take my 'oil need' to a whole new level for us.  :)
A Word of Caution
The label on ImmuPower says do not use on children younger than 6.  Young Living's website says avoid using on infants and very small children.  All of that being said, please do your own research if you are considering using ImmuPower.
Also, of course everyone is different… what works for one does not always work for another.  But this is what works for us.  :)
Wash Your Hands
One last thing… after you apply ImmuPower, I would most definitely recommend washing your hands.  Or you might rub your son's head later on, and your husband might ask why he smells like an armpit.  Or your husband may accuse YOU of smelling like an armpit.  I know this from experience.  ;)