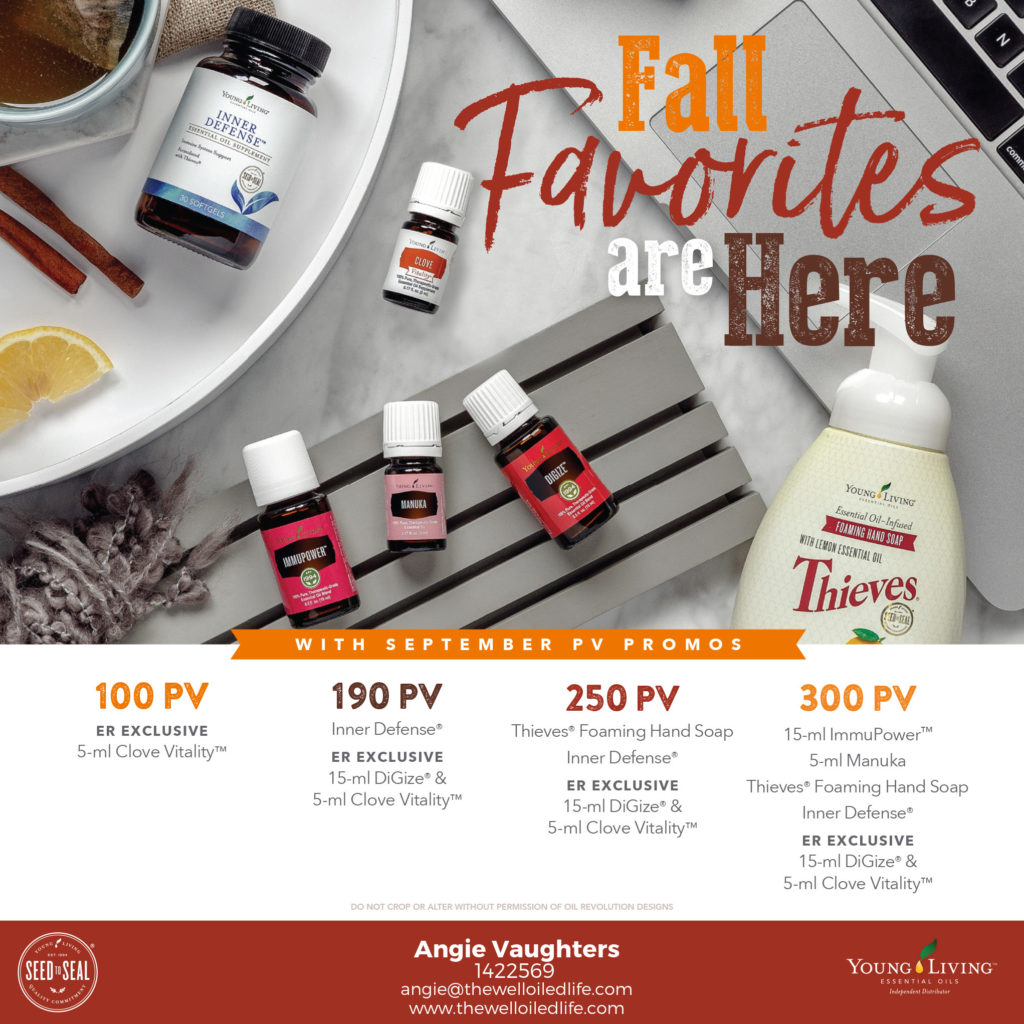 WOOHOO!!  This month's promotion is SO AWESOME!  If you watched my last video on Back to School Must Have's, so many of these freebies were on my list!  Think Young Living watched my video?! ??‍♀️?
Let's talk about these items for a sec…
Immupower – This works so well, I always say it works like Thieves on steroids.  I use this on the bottoms of my kids' feet at night all throughout the school year.  This one is STINKY, but I love how it works.  As a matter of fact, it makes my list for My 2 Absolute Must-Have Oils.
Thieves Foaming Hand Soap – This is my favorite hand soap.  Like ever.  My daughter's hands crack and bleed from the school soap, but with this soap her hands are moisturized and supple (AND CLEAN!).  I completely noticed a difference once we started using this soap a few years ago in my kids' health, and honestly I think it's because their hands were CLEANER.  Washing with this soap is the first thing they do when they come home from school.
Inner Defense – This is Thieves plus Lemongrass and Oregano in a capsule!  POWERFUL.  It reinforces systemic defenses, creates unfriendly terrain for yeast/fungus, and promotes healthy respiratory function. YES. TAKE THIS when you need extra inner defense.
DiGize – This is another POWERFUL oil, we rub it on the belly (and top it with Peppermint so it's not so stinky! ?).  It is a definite must-have of the season!
Manuka – This one will be new to me!  It contains a lot of similar properties to Tea Tree, I can't wait to try it!
Clove Vitality – When taken as a supplement, Clove Vitality essential oil promotes a healthy immune response* and may support overall wellness*, making it an important part of our Thieves®, ImmuPower™, Inner Defense™, and Longevity™ formulas.* Another POWERHOUSE oil!
As a reminder of how the monthly promotions work, if your order (retail or member) reaches one of the PV levels, you will receive all items at that level for free!  If an items says 'ER Exclusive', it means it will be shipped to you if your order reaches that level AND if it is your monthly Essential Rewards order.  Essential Rewards is Young Living's amazing customer loyalty program, click here to read more about it.
Stock up your wellness arsenal for fall, this month's promo makes it so easy!!! ?