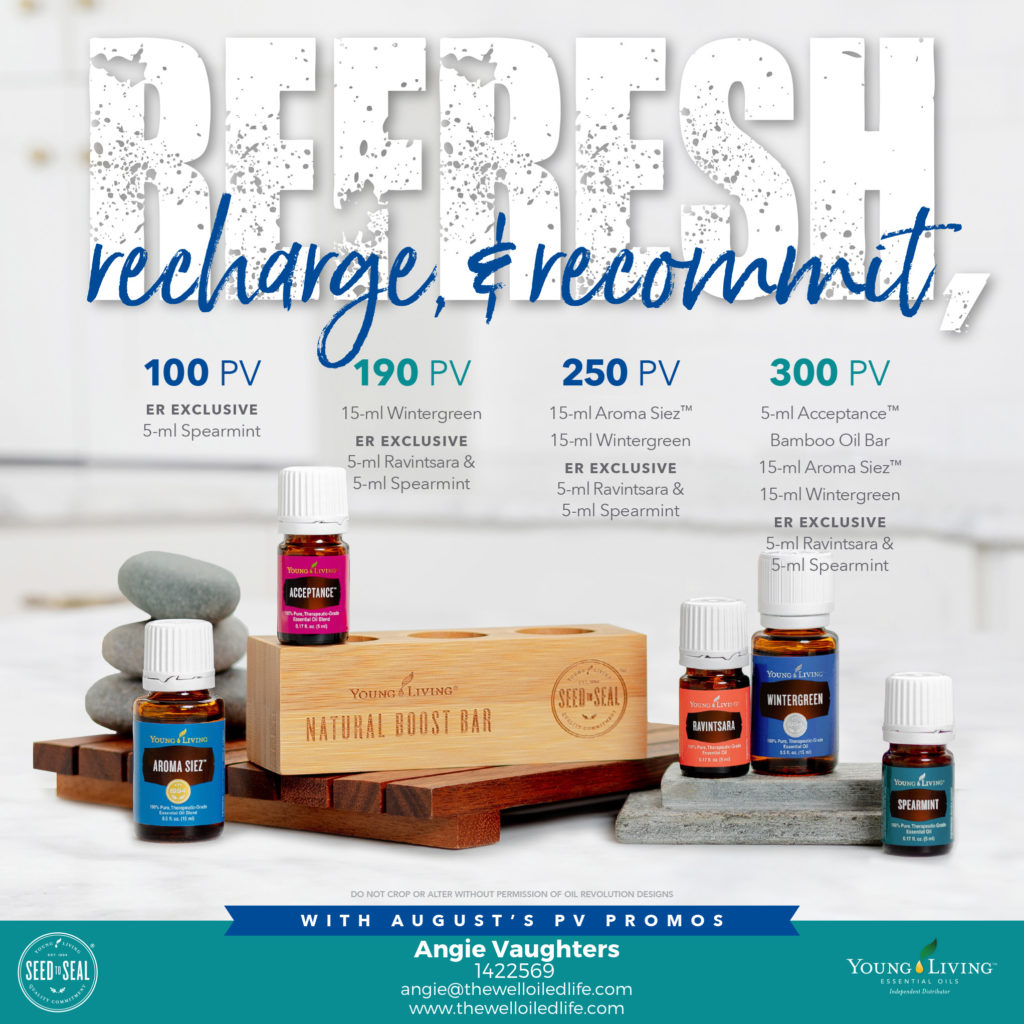 It's already August!  If you haven't seen August's Young Living monthly promotion, there are some fantastic items available!
As a reminder of how the monthly promotions work, if your order (retail or member) reaches one of the PV levels, you will receive all items at that level for free!  If an items says 'ER Exclusive', it means it will be shipped to you if your order reaches that level AND if it is your monthly Essential Rewards order.  Essential Rewards is Young Living's amazing customer loyalty program, click here to read more about it.
August's promotion is all about refreshing, recharging, and reconnecting!
Spearmint is my current favorite in my car diffuser.  It smells really refreshing every time I sit down in my car!
Ravintsara is one of the main oils in the Raven blend.  We love to rub this on our neck and chests for a deep-breathing aroma, and we also love to use this in the diffuser at night.
Wintergreen smells amazing (I add it to my homemade mouthwash) and feels great when rubbed on tired muscles.
Aroma Siez is another great oil for tired muscles or rubbed on the lower back, temples, and neck.  It is one of the oils used in the Raindrop Technique.
How cute is this Bamboo Oil Bar?! Set it on your nightstand, vanity, kitchen counter, or anywhere else you like to store your oils!
The aroma of Acceptance essential oil blend helps to stimulate the mind and compels you to open up and accept new changes, people, and relationships! The motivating aroma inspires feelings of self-worth and positivity.  Acceptance contains 18 powerful oils, read more here.  This oil smells incredible!!
You can take advantage of the monthly promotions even if you're not a member, but by far becoming a member is going to give you the biggest bang for your buck.  Click here to contact me with any questions, Young Living will change your life!