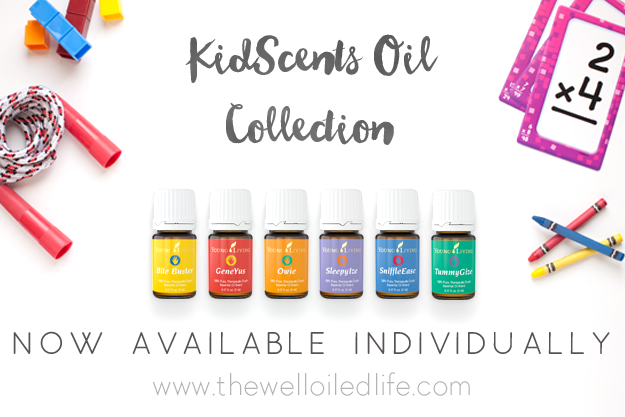 Ever since Young Living released the KidScents Oil Collection at the 2014 Convention, this collection has been a HOT item!  These pre-diluted oils are perfect for children.  What's better is that these essential oil blends are now available individually!
Bite Buster
Bite Buster essential oil blend lets your little ones enjoy the outdoors annoyance free.  Citronella is one of the main oils contained in this blend.
GeneYus
GeneYus essential oil blend is an excellent blend to diffuse while children are focusing and concentrating on projects.  This blend contains many different essential oils including Sacred Frankincense, Melissa, and Myrrh.
Owie
Owie essential oil blend contains many essential oils known for their skin supporting properties, such as Tea Tree, Elemi, and more.
SleepyIze
SleepyIze essential oil blend can be diffused at bedtime to promote relaxation and restful sleep.  It contains Lavender and Valerian essential oils, known to help promote a peaceful environment, plus many others.
SniffleEase
SniffleEase essential oil blend contains oils such as Eucalyptus Blue, Peppermint, Lavender, Ravintsara, Palo Santo, and more.  This oil blend is refreshing, and as part of the KidScents line, is formulated just for kids.
TummyGize
TummyGize essential oil blend can be applied directly to little tummies.  This oil blend contains Peppermint, Spearmint, Fennel, Ginger, and more.
The oil blends in the Young Living KidScents Oil Collection come pre-diluted and are perfect for the everyday stresses that little ones can experience.  Rather than having to purchase the entire collection to give these oils a try, you can now individually purchase the oil or oils you need most!  And you'll save 24% when you buy as a wholesale member!