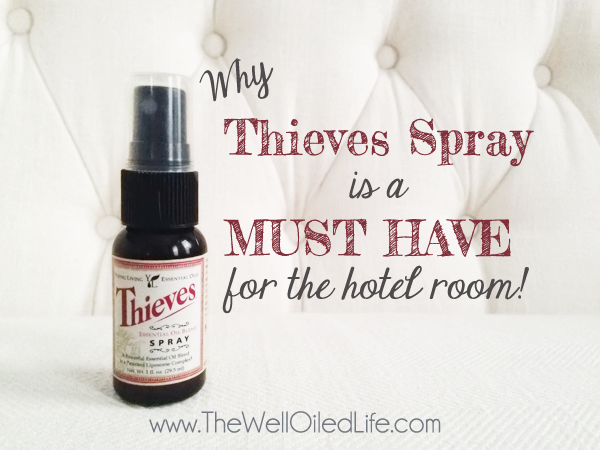 I'll admit, I'm pretty neurotic when it comes to cleanliness.  I probably wasn't as bad before I had kids… but, well, I had kids.  And now uncleanliness makes me crazy.  This is probably one of the reasons that I LOVE Thieves oil and the Thieves line of essential oil-infused products from Young Living!
A little history about the Thieves oil blend… it was created from research based on 15th century thieves who were able to stay healthy even when they robbed bodies of the dead and dying.  When apprehended and forced to tell their secret, they disclosed a blend of herbs, oils, and spices they used to protect themselves.  Young Living's Thieves essential oil blend is based on this formula.
Many of us know about Thieves oil, but did you know about Thieves Spray??!!  It is a ideal for purifying small surfaces – I LOVE this!!  It is contains the Thieves essential oil blend and is in a spray form!
My Hotel Experience
I recently traveled to Salt Lake City, Utah for Young Living's annual convention.  Although the hotel was nice, I'm pretty sure there are only certain surfaces in a hotel that get wiped down between guests… oh it gives me a little shiver to think about it!  Ha!  I mean, have you ever seen those 20/20 episodes where they go into the hotel rooms with a black light??  Yuck!!  I really try not to think about it too much… but some things I can't help!
The first thing I do after traveling through airports and public transportation all day is wash my hands with some good ol' fashion soap and water!!  But when you're in a hotel room, I feel like everything else is dirty!!  I think about all the people who don't wash their hands after using the restroom (or who don't wash them in general), who were probably just in the room touching everything!!  I'm thinking about…
light switches
door handles (to the room and in the bathroom)
the toilet handle
the TV REMOTE (!)
the phone
… just to name a few!  It's probably the TV remote that grosses me out the most for some reason!
I had brought my Thieves Spray with me, and I'm so glad I had it with me.  I immediately sprayed down all those areas that probably never get wiped down (like the REMOTE!! and the light switches, etc. etc.) and used one of the extra washcloths in the room to wipe them dry.  Ahhhh!  It made me so much more comfortable staying there!!
I will never travel to another hotel room without my Thieves spray.  Another benefit is that it gets rid of the stale and/or stinky-cleaner smell hotels can have and replaces it with the wonderful smell of Thieves!!