I know I'm always anxious to hear what the free oils of the month are going to be!  For the month of February, a 15ml bottle of Copaiba and a 5ml bottle of Idaho Blue Spruce are the freebies!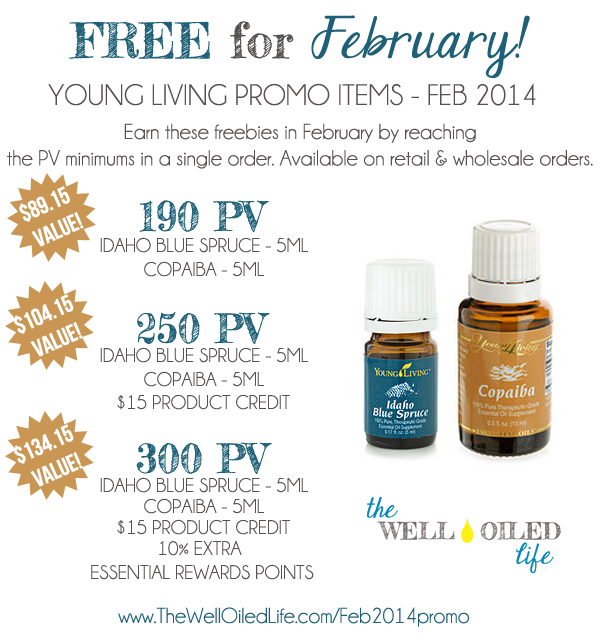 The monthly promotion is available to both customers and wholesale members who hit the different PV levels in a single order.  Click here for all the details on February's promotion.
190PV – 5ml Idaho Blue Spruce and 15ml Copaiba
250PV – 5ml Idaho Blue Spruce, 15ml Copaiba, and $15 product credit
300PV – 5ml Idaho Blue Spruce, 15ml Copaiba, $15 product credit, and an extra 10% back in Essential Rewards points.
Wondering what Essential Rewards is??  It is a fantastic program where you can earn FREE product credits on your monthly orders, get reduced cost shipping, and have access to product bundles below wholesale prices!!  You can read more about Young Living's Essential Rewards program, including how to sign up if you're not already taking advantage of this great (free) program!
Copaiba
Copaiba promotes wellness and may be an important part of a daily health regimen.*
Idaho Blue Spruce
Idaho Blue Spruce is distilled directly from Young Living's St. Maries farm in Idaho. This oil contains high percentages of alpha-pinene and limonene.
If you do not currently have a wholesale membership to Young Living and want to know how you can purchase these amazing essential oils (the best essential oils, I might add!), you can get a wholesale account here.
Love these free oils this month!