I really, REALLY, don't like the start of a new school year (shhh, don't tell my kids!).  Not only are you coming off of a carefree summer where the weather is warm and outdoor activities are plentiful, but it also means that your immune system can start taking some hits with cold weather season is just around the corner.  Any time there are bunches of kids in a contained area like a classroom, you know it's inevitable that you will need boxes of tissues ready at home!
All that being said, this year I feel so much more prepared for this cold weather season because I have my oils to help support our immune systems!  Of course I am constantly reminding my kids to make sure they wash their hands well at school, especially before lunch and after using the bathroom.  But in addition to reminding them about good hand washing and of course praying over their health daily, this year I also have Young Living Thieves oil… a blend of Clove, Lemon, Cinnamon Bark, Eucalyptus, and Rosemary.
Thieves® essential oil blend was inspired by the legend of four 15th-century French thieves who formulated a special aromatic combination composed of clove, rosemary, and other botanicals they used while robbing the dead and dying
Every morning before school, we use Thieves oils.
Additionally, I send my daughter to school with a bottle of Thieves Waterless Hand Purifier… I wasn't sure whether she would get a chance to wash hands before lunch, so I wanted to make sure she had some way of cleaning her hands after touching stuff all morning that tons of inevitably sick kids had already touched!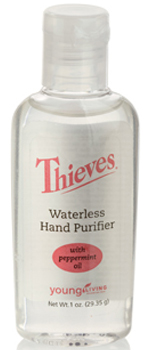 Thankfully she's since told me they DO get a bathroom break before lunch to wash up, so she said she uses the Purifier after lunch.  Kind of defeats the purpose, but she said she loves using it!  It smells so good.  She wanted me to leave it in her bag.  :)
Of course nothing is foolproof… to regularly support their immune systems, I keep my Premium Starter kit on hand (which includes Thieves!) plus a few more oils.  We've seen positive health benefits!
I'm thankful that we have Thieves oil to help our kids' immune systems in top shape in the classroom!  This is one oil I never let run out!