If you're like me, when you spend more than you normally would on a product, you need to be able to mentally justify the purchase!!
This is how I felt about the Thieves Foaming Hand Soap.  I knew I wanted to try it from day one. I'd been buying regular 'natural' soap for quite awhile, knowing that triclosan, the ingredient responsible for most commercial soaps' antibacterial properties, has been banned from several countries.  So we used a 'more natural' brand of regular ol' hand soap for a while.
But when I first learned about Thieves soap, I thought, "I gotta have that!"  Not only is it free from harmful ingredients, but it contains the famous Thieves oil blend!
However, the price per bottle even at wholesale cost was definitely more than I would normally spend at the store.  One month I finally decided to try it, so I bought 2 bottles.  I put them at the sinks we use the most.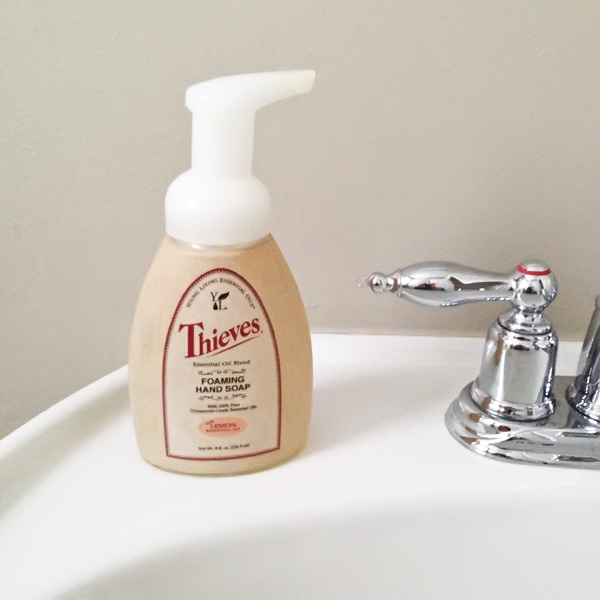 Love.
Oh, what can I say?!  I LOVE it.  It smells SO good.  It is gentle on our hands, which I was concerned about, knowing some of the oils in Thieves are 'hot.'  But even my daughter, who actually gets dry, red, and super-itchy on the tops of her hands from the soap at school, does great with the Thieves soap!  She is my 'litmus test' if you will on whether a soap is gentle, and Thieves passed.  :)  I love the fact that this soap contains this awesome oil my family has grown to trust to support a healthy immune system!
So how long did my bottles last me??
I put one of the bottles at the kitchen sink, one of our most frequently used sinks.  Between my husband and I, soap gets pumped out several times a day.  Even with our frequent usage, my bottle lasted 2 entire months.  I was actually surprised it lasted so long!
The bottle in our downstairs bathroom (again, another frequently used sink) still had soap in it when the other bottle ran out at 2 months.  It didn't have a whole lot left, but probably another week or two.
Refill time!
When it was time to replace my bottles, I realized Young Living makes a 32-oz Thieves Foaming Hand Soap Refill!  I worked it out price wise, and it was almost like getting another bottle of hand soap for free.  :)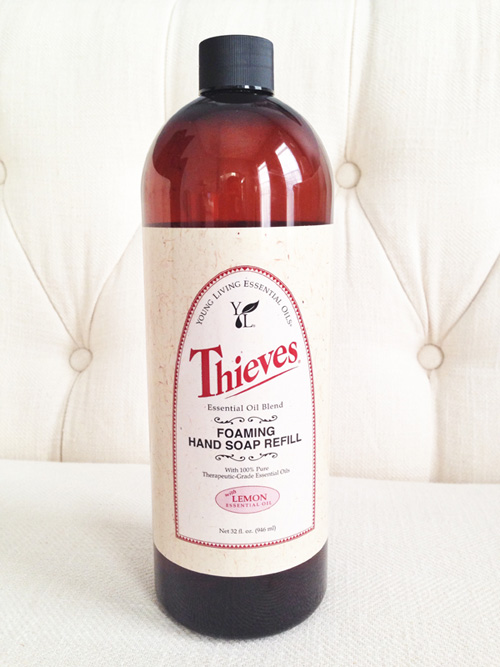 My New Soap
I have no problem justifying my new soap.  It contains the famous Thieves essential oil blend, is extremely gentle on the hands, contains no harmful ingredients, and a bottle lasts quite a long time even with very frequent use.  The refill is the way to go from a cost perspective – I LOVE this soap!!