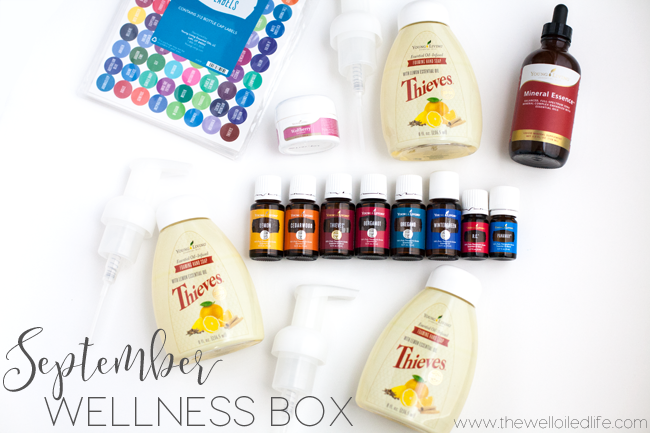 Well hello there!!  I hope your September has been wonderful, I'm in disbelief that it's almost over.  ?  First things first – I'm changing the name of my monthly Essential Rewards posts from 'Goodie Box' to 'Wellness Box' –  why, you ask?!
Monthly Wellness Box
If you haven't noticed, there is a monthly subscription box for just about everything.  I looked in a 'subscription box' directory today, and 4000+ different 'boxes' came up!  You can get monthly boxes of cosmetics, clothes, toys, date night ideas, dinners, candy, beer, wine, and MUCH more!  The site says, "Monthly box subscriptions are convenient, exciting, fun, and often you'll receive products at significant discounts."  Well that is EXACTLY what my monthly Young Living Essential Rewards order is!!  So I'm declaring my monthly orders from Young Living to be my Wellness Box.  ?
My monthly Wellness Box is an investment into the health of my family, and I'm grateful for this program that allows me to get the products we rely on for our health at well-below retail cost!  Every month I get to go in and pick which products I want to replenish or try out for the first time.  It seriously is like Christmas every month.  ?  AND I earn free product credits back on my orders that I use to redeem for free product in the future!
September's Haul
This month I was out of quite a bit (why does everything always run out at the same time?!), which was actually awesome because I got to take advantage of September's Monthly Promotion and earn free product on this order!
My Staples
Thieves Foaming Hand Soap – I like to buy the big Thieves Foaming Hand Soap Refill since it's almost like getting a bottle for free, but my bottles were starting to get yucky so I needed some new ones.  When you buy a 3-pack, you save over buying them individually.
Bottle Cap Labels – I currently give these out as part of my free gift for signing up with me, so I ordered a bunch more.  These little labels make it so much easier to find your oils.
Wolfberry Eye Cream – This eye cream is wonderful.  I've tried several other eye creams without harmful ingredients over the years, and the Wolfberry continues to be my favorite.  It is definitely a nighttime eye cream (I wouldn't wear this under makeup), but it's extremely nourishing.  Plus this little pot lasts a super long time.  My last pot lasted so long I started getting worried it might expire!
Mineral Essence – I'm pretty convinced I was experiencing a few weird things related to being low in magnesium, so I've been using Mineral Essence the last couple months to help me make sure I'm getting enough essential minerals.  Although I don't care for the taste of this, I've loved using it!
Oils – This month's essential oils on tap for me were Lemon, Cedarwood, Thieves, Bergamot, and RC.  We use these for a massive variety of things around here.  ;)
Freebies
Free Oils – Like I said, I got to take advantage of the monthly promotion this month, so I received Oregano, Wintergreen, and PanAway, ALL of which we use regularly!
That's it for me, I got some great items this month.  What favorites did you pick for your monthly Wellness Box?!  Happy Fall!!!
Save