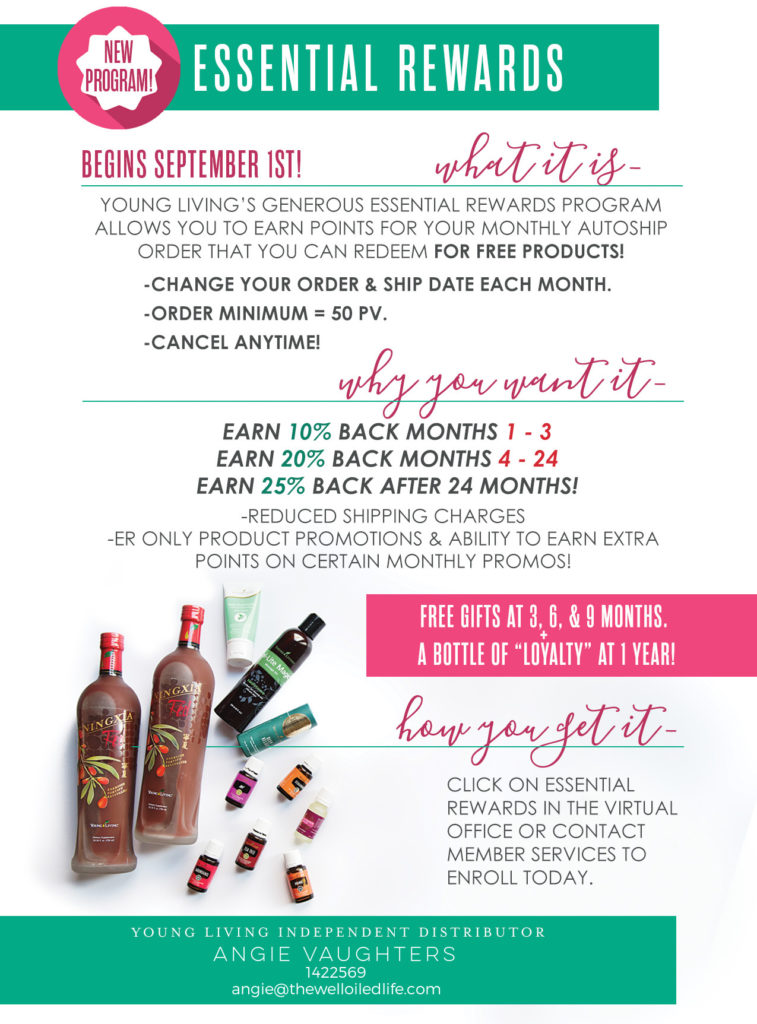 Starting this month, Young Living's Essential Rewards program is getting a FANTASTIC update!
What is Essential Rewards?
First off, if you don't know what Essential Rewards (ER)  is, it's Young Living's customer loyalty and monthly autoship program.  This program is completely optional, but it has some amazing perks, most notably earning FREE product credits on your orders!  To learn the ins and outs this program, see my full post explaining the Essential Rewards Program.
Essential Rewards Updates
Although the heart of the program is remaining the same, there are some awesome updates!  Now, you only have to be enrolled in ER for 4 months to begin earning 20% back on your monthly orders, versus over a year with the old program!  Additionally, once you are enrolled for over 2 years in Essential Rewards, you start earning a whopping 25% back!  Think about it – you are already paying 24% below Retail cost, and then you are earning another 25% back in credits to use on free products!  Essential Rewards is definitely the best way to buy Young Living products.  :)
Also, Young Living will now be sending you gifts at your 3,6, and 9 month anniversary of being enrolled in ER, AND you will get a bottle of 'Loyalty' at 1 year!  I think I might be most excited about this!!
The Essential Rewards program is open to all wholesale members of Young Living.  It's super easy to enroll in Young Living if you're not a member already, and as always, I'm happy to answer any questions you have.  :)