Clean living, made simple.
If you've never used Young Living's essential oils before, the Premium Starter Kit is the perfect introduction.  It is the most cost-effective way for you to try a wide variety of REAL oils, and you can truly start to transform your health and home with this one kit.  And I will teach you how to use your kit, you will have support the whole way!
Order Oils Now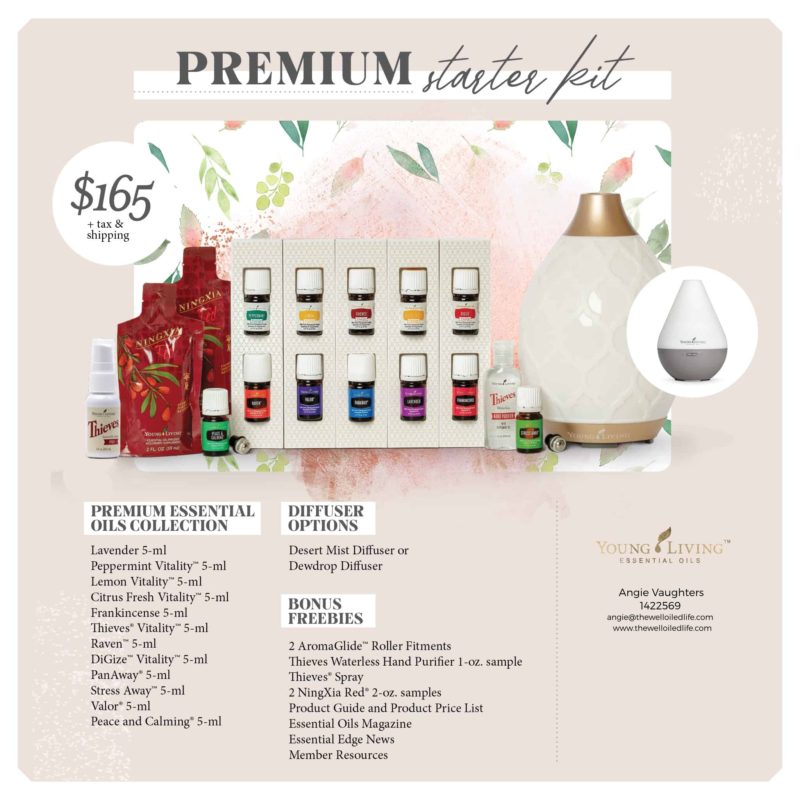 What's Included
12 oils and a diffuser of your choice (I love the Desert Mist)
2 AromaGlide Roller Fitments
Thieves Waterless Hand Purifier
Thieves Spray
2 NingXia Red packets
Product guide and Essential Oils Magazine
A Young Living membership, which includes your 24% discount on Young Living products (think of it like a Costco membership for oils, but without the recurring fee!)
Access to our Oil Moxie support system when you join through me
A Welcome Packet from me to help get you started
My 14-day e-course to get you up and running with your oils and your YL Membership
Included oils (5ml each, US Kit):
4 Single Oils
Frankincense – incredible for skin (add to moisturizer) and for focus (apply to brain stem), great to diffuse during prayer and meditation
Lavender – wonderful for relaxing (add to a bath, apply to wrists, or diffuse)
Lemon Vitality – great source of d-limonene, add to your water or yogurt
Peppermint Vitality – helpful for the digestive system
8 Blends –
Panaway – soothes tension and muscles
Stress Away – the name says it all!  Diffuse or apply to wrists.
Citrus Fresh – great to diffuse for a fresh scent, awesome on dryer balls
Thieves Vitality – immune and respiratory support
Raven – great to rub on the chest before bed, for nice deep breaths
DiGize Vitality – digestive support
Peace & Calming – great to help tantrums or for calming down – diffuse or apply to wrists
Valor – great for grounding and confidence. Fantastic as a daily perfume or in diffuser jewelry!
Not only can these essential oils be used to support the health of your mind and body, but they can also help you to get the chemicals out of your home – replace toxic dryer sheets, scented candles, plugins, room sprays, harsh chemical cleaners, and much MUCH more with essential oils.  Want to know the specifics of how the oils in this kit can help your body and mind stay healthy?  Check out my Learn page for lots of ideas!
Get the Kit!
Ready to get started?!  To purchase the Premium Starter Kit, click the button below (or click here if you need ordering instructions).
Order Oils Now
Congratulations on taking an important step in upleveling your health!