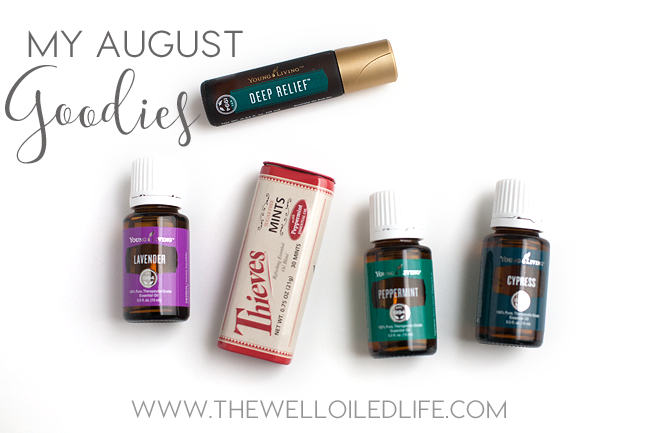 Oh, it's like Christmas every month!!  ?  If you order Young Living essential oils regularly, you must check out their Essential Rewards program!  This is Young Living's customer loyalty program.  I have been on Essential Rewards for at least 3 years now, and it is awesome because I earn free product credit back on all of my monthly purchases!  Basically for every $100 in product I spend, I get $20 back to use in the future.  Definitely check this out if you're not enrolled in it, it's free to enroll and you can cancel anytime! (plus you can of course make additional orders any time, but I try just to stick to the monthly order so I'm not paying for shipping multiple times a month!)
Anyways, back to my monthly goodie box.  ?  I'm always needing to replenish something, so this month it was Lavender, Peppermint, and Cypress.  I've been using a roll-on on my kiddos consisting of Lavender, Peppermint, Cypress, and Wintergreen, so I was getting low on most of those!  And DEEP RELIEF ROLL-ON is back in stock!!  I've been waiting for this one, it's definitely one of my favorites.  I use it on my back and on my head the most.
And if you've followed along here for any length of time, you know my kiddos LOVE the Thieves Mints!  Next month I need a few extra things for myself, so I may have to pull the plug on those for the kids.  ?  But they made it onto this month's order.
Thanks for stopping by!  And if you haven't watched yet, I just recorded a video class titled 'Essential Oils for Men' – there are some great ideas on oils for your man in there… DIY Beard Oil or Hunting Cover Scent, anyone?!
Until next time!!