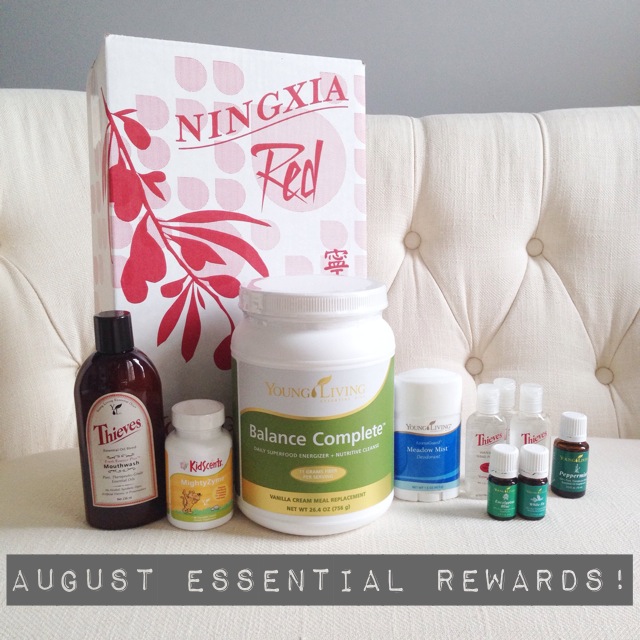 Woo woo!!  Love it when my new order arrives every month!  This month, as usual, I had to replenish a few favorites and I decided to try a few new things, too!
Peppermint
Ahhh… peppermint.  Never leave home without it.  Enough said.  :)
Thieves Waterless Hand Purifier
I bought the 3-pack of these since I send a bottle to school with both of my kids.  Love this stuff.  I have it in the car and my purse, too.
KidScents MightyZyme
I give one of these to each of my kids every day.  It helps to support normal digestion, and I always keep extra on hand!
NingXia Red
My husband and I take this daily, and I do give it to my kids occasionally as well!  It's cheaper per ounce to purchase the NingXia Essential Rewards Pack, but I only needed a couple of bottles to hold us over until our next 'bigger' order.
Meadow Mist Deodorant
This is new for me this month!  Many people love this deodorant, so I thought I would try it out this month!  It smells really good, and the texture is nice and smooth.  :)
Balance Complete
This is new this month for us, too!  We were looking for a protein powder recently and decided to try this. Update!  This is AWESOME!!  We love Balance Complete, and we will definitely order this again!
Thieves Fresh Essence Mouthwash
Another new one!  A mouthwash made with the famous Thieves oil blend!
Eucalyptus Blue and White Fir
These oils were FREE with this month's promotion!!!  :)