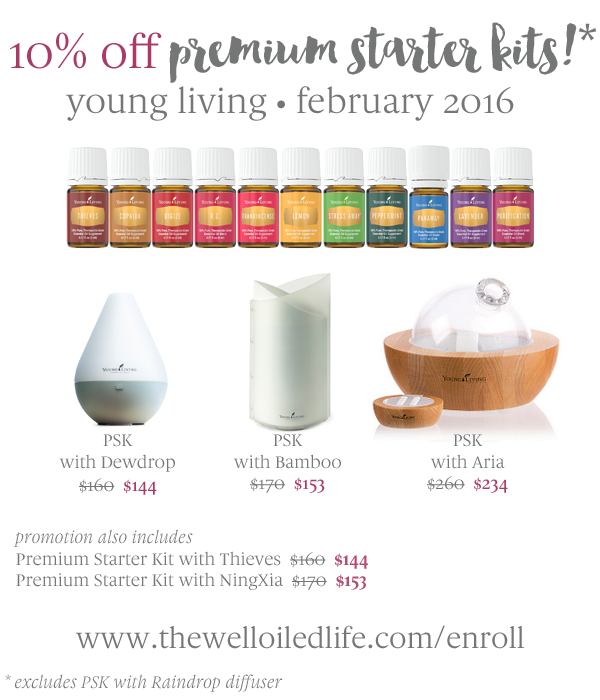 Well hello there!  If you've been around here any length of time, you know that I think Young Living's Premium Starter Kit is by far the BEST way to dip your toes into the world of essential oils.
The value is phenomenal, plus you get an entire kit of oils to play around with.  If one oil isn't giving you the results you are looking for, you have LOTS more to choose from and will probably find a better fit!  Just to do a quick numbers breakdown, let's look at the Premium Starter Kit with Dewdrop Diffuser (the one I recommend)…
If you were to 'piece together' this kit (buying all the components separately) at Retail prices, it would cost you over $260.  Even at wholesale prices, 'piecing it together' would cost over $200.  So at the regular price of $160 for the Premium Starter Kit with Dewdrop Diffuser, that is already quite a bargain!
During the month of February 2016, Young Living is offering 10% off their Premium Starter Kits!*
This makes the Premium Starter Kit with Dewdrop Diffuser only $144!!
Check out the graphic above for prices of the other Premium Starter Kits included in February's discount.  The only kit not included is the Premium Starter Kit with Rainstone Diffuser.
If you have been on the edge but haven't yet taken the plunge with essential oils, February is the time, so you can take advantage of the discount!!  Don't forget, I will also send you my favorite essential oil organizer plus some bottle cap labels as a gift from me when you order here.  Plus you will have access to our Oil Moxie support system and receive a 14-day eCourse from me.
Note to current members – you can also take advantage of February's discount and get yourself another kit or buy one for a gift!
Happy Shopping!
*excludes Premium Starter Kit with Rainstone Diffuser