We recently had a few rooms in our house repainted, and the stinky paint prompted me to get my diffusers out to purify the air!  I needed my Young Living essential oils up in here!
I love the smell of Purification… if you haven't smelled it, it's a lemon-y, citronella-y, fresh smell.  One of its uses is to purify the air.
There are several combos I like to diffuse with Lavender, and I like the floral note that Lavender gives to these combos.
So when I was diffusing after the paint, I decided to try Purification and Lavender together.  Oh wow!!!  It smells so good!!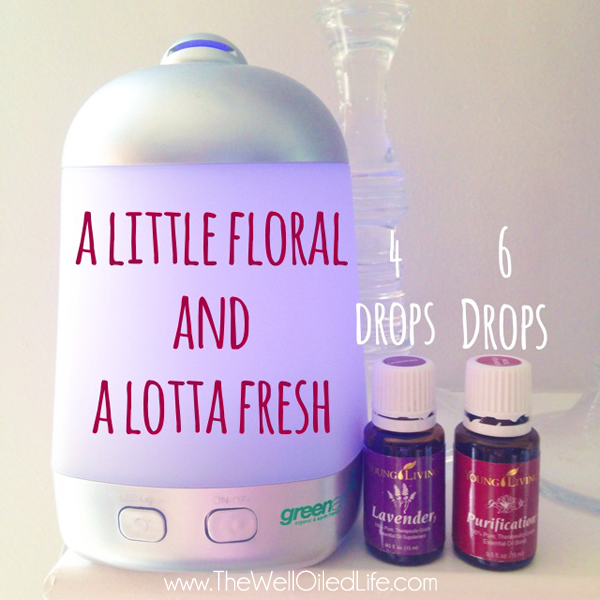 I was doing 10 drops total in my diffuser because I had some large areas to cover… I used 4 drops of Lavender and 6 drops of Purification.
A Little Floral and a Lotta Fresh!
This was the first thing I thought when I smelled it!!  The bit of Lavender gives this combo a hint of a floral smell, and the Purification just smells so fresh!!
It's amazing how much diffusing these oils got rid of the paint smell in my house!  After it was gone, I just kept diffusing because it smelled so good.  :)
If you have the Premium Starter Kit, you have both of these oils!!  Give it a try!
Do you have a favorite Young Living essential oil combo to diffuse, just because you like the smell??  Do tell!
(Sidenote:  I get asked all the time what diffuser this is – it's called the GreenAir Spa Vapor.  I have several of them and have purchased them from Amazon and Puritan's Pride – so check around for best the pricing!)