Woowee, this month I am trying lots of new things, so my order was a big one!!  I'm so excited to try some of these products I've never tried before!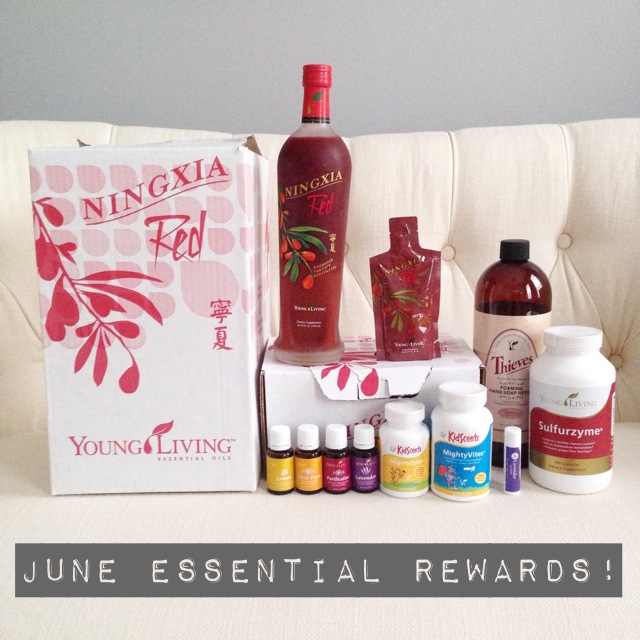 NingXia Red Essential Rewards Pack
My husband and I have talked about using the NingXia Red on a daily basis, so ordering the NR Essential Rewards pack was the least expensive way to do so.  It comes with 4 bottles of NR and a 30-pack of 2oz pouches.  Each bottle contains about 25oz… so if you do the math of both of us using 2oz per day, this supply will last us over a month.
KidScents MightyVites
We use and love the KidScents MightyZyme chewables (which are digestive enzymes), so I decided to try the MightyVites, a whole food vitamin/supplement, for my son.  My daughter has taken Juice Plus for a couple of years, but my son will NOT eat them because they are a gummy consistency.  I have tried to find him a whole food vitamin, but have never been able to come across anything great… but then I realized Young Living has these MightyVites!  We will see how he likes them.  :)
Lavender Lip Balm
I have read some great testimonials about this lip balm lately, so I decided to give it a try!  I love the consistency and that it feels very healing to my lips… I think I will definitely be adding this to my future orders!
My 'Regulars'
I needed to restock some regulars, which included the Thieves Soap Refill (LOVE), a bottle of Lavender, and our MightyZyme chewables.
Freebies!
With my order this month, I qualified for all the freebies from June's monthly promotion!!!  So I got free 15ml bottles of Lemon, Citrus Fresh, AND Purification.  I also received a bottle of Sulfurzyme capsules, and got a $25 product credit in the form of Essential Rewards points!
It's honestly like Christmas every month when my Essential Rewards order arrives.  :)  I'm excited to start using some of these products I've never used before!!
In case you don't know, Essential Rewards is Young Living's OPTIONAL monthly autoship program where you earn free product credits back on your orders and qualify for cheaper shipping.  It is available to wholesale members… you can read about becoming a member here!