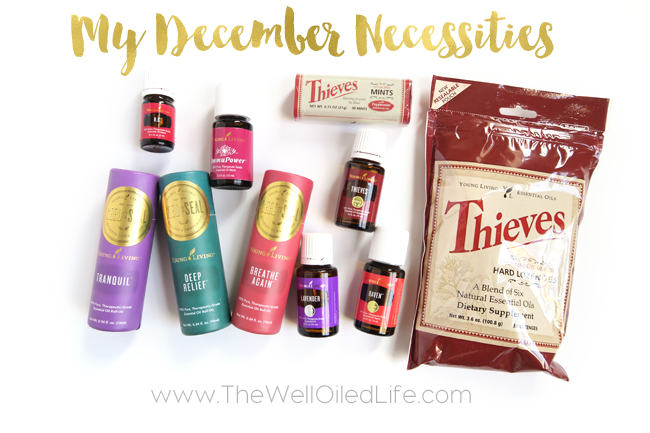 Hello, I hope you've had a wonderful Christmas!  Today I wanted to share my December necessities from Young Living.  There are just some things we cannot live without during these months, ya know?!  ;)
RC
We love Young Living's RC essential oil blend.  I typically diffuse this in my son's room at night and often rub it on his neck and chest before bed.  RC not only smells wonderful, but it contains 3 types of eucalyptus oil plus several other oils.
ImmuPower
I've said it before… even though ImmuPower is stinky, it is one of our must-have oils!  ImmuPower contains Hyssop, Mountain savory, Cistus, Camphor, Frankincense, Oregano, Clove, Cumin, and Dorado azul.
Tranquil Roll-On
Tranquil Roll-On essential oil blend is a new favorite for me.  It contains lavender, cedarwood, and roman chamomile.  I keep it by my bed to help me relax and wind down in the evening!
Deep Relief Roll-On
I love the Deep Relief Roll-On and was so excited to see it come back in stock!  This blend contains Peppermint, Wintergreen, Copaiba, Helichrysum, Dorado Azul, and other essential oils.  I love rolling this on my lower back and also my forehead, temples, and neck.  It also smells really good.  :)
Breathe Again Roll-On
Breathe Again essential oil blend contains 4 different types of eucalyptus oil, plus a variety of others.  I sometimes rotate this with RC and use it on our neck and chests and over sinuses.  This one smells good as well!
Lavender
This is one of our favorite standbys.  :)  We have it around all the time, and I make sure I never run out!
Thieves
Thieves is our other must have oil.  I will never let myself run out of this one!  We like to make Thieves tea, with some warm water, honey, and a few drops of Thieves.
Raven
Raven is another Young Living essential oil blend that we sometimes rotate with RC.  My daughter loves this oil, so I diffuse it in her room at night and sometimes use it on her neck and chest.
Thieves Mints
Oh goodness, my kids LOVE these!  I keep them by the back door, so most mornings when we leave for school, they ask if they can have a Thieves Mint.  Sure!  I know there's nothing junky in them, so I don't feel bad letting them have one – they think it is a TREAT!
Thieves Hard Lozenges
I love keeping Thieves Hard Lozenges on hand.  You can really feel a difference when you use one!  They are a bit spicy, but they are not too hot for my kiddos, which is a huge plus.  These lozenges obviously contain the Thieves essential oil blend.
So that's what I made sure to have on hand this December!  Do you have any favorites you would add?!  Thanks for visiting!