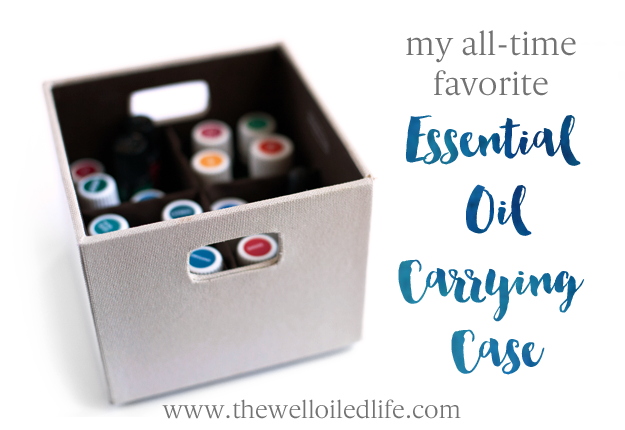 I'm apologizing in advance for holding out on you.  What I've yet to share with you here on the blog is my absolute favorite carrying case for my essential oils.  I know, this is a big deal and I'm sorry.  ;)
All kidding aside, new oilers are always asking, "How should I store my oils?"  This, my friends, is my solution!  I believe this is the best essential oil carrying case around.
This carrying case of mine has most definitely been around the block with me on my oil journey.  I have had it for as long as I've had my oils, so for over 2 years.  As silly as it sounds, I love everything about this case!  It is the Rubbermaid Bento Storage Box (size small), and here is why it's the best case I've found…
Why I Love It
It's the perfect size to hold all the oils we use on a regular basis plus a few extras.  It holds up to 16 oils very comfortably, and up to 20 or more if some of them are 5ml bottles or roll-ons (since those are skinnier).
The inside dividers are PERFECT for keeping all the oils upright.  Even if the case isn't full, the oils do not tip!  I LOVE this.
I don't have to mess with elastics and tipping bottles like in a pouch.
I don't have to unzip, unsnap, undo anything to get to my oils.  With labels on my bottle tops, I can get to EXACTLY what I am looking for in a flash.  This is important when you're dealing with squirmy kids!  Or if you're trying to find something in the middle of the night.
This carrying case is very transportable around the house.  The oils stay upright when you're carrying it (unlike some cases with handles), and it won't fall over like some pouches, so the oils never have a chance to leak when you're moving it around your house.
It's extremely durable.  Like I said, I have used this for over 2 years.  It is a hard, canvas-covered case with flexible padded inside dividers.
The bottom has little canvas feet so it won't scratch the top of your dresser (where I store it) or table.
It's a stylish little decorative box, so I can leave it out on my dresser and it never looks out of place!
Here is a look at the case from above.  Like I mentioned, the dividers are padded.  They are flexible and can be moved, but I leave them just like I bought them.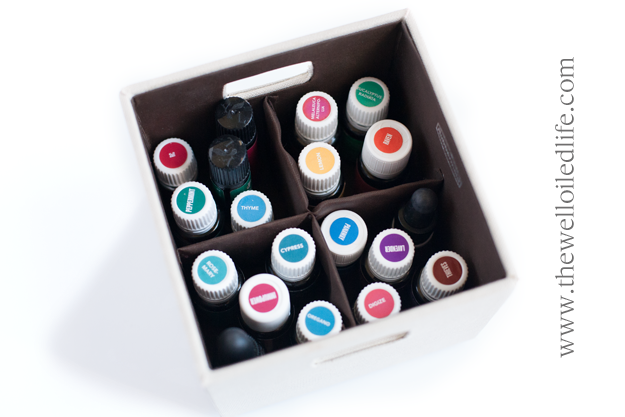 Are these all my oils?  Heavens, NO!  But these are the ones we use regularly.  This box gets moved all over my house.  :)
So where do I store the rest of my oils?  I have various other cases.  I have an acrylic lipstick organizer I use to hold the oils I don't use on a regular basis.  I also have a plastic shoebox container that holds my backup, extra oils.  I have the Aroma Complete, which is a case in itself!  I do have labels on all of those to make finding things MUCH easier!  I have a zippered pouch I use for travel.  But by far, this Rubbermaid Bento Storage Box is my favorite.  It is super functional, and it's cute, too.  :)
Thanks for visiting, until next time!