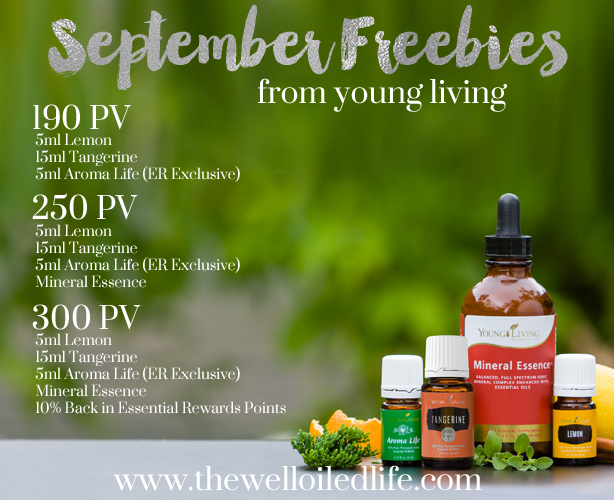 September is here, so that means new promos from Young Living!  The monthly promotions are available on both retail and wholesale members who reach the minimum PV levels in a single order.  When you reach these levels, you earn the free products listed!  Here is the rundown for the September 2015 Young Living Promotion…
300 PV Reward
Retail Value: $142.76

5-ml bottle Lemon
15-ml bottle Tangerine
Bonus 5-ml bottle of Aroma Life on Essential Rewards orders
Mineral Essence
Extra 10% Back in Essential Rewards points
250 PV Reward
Retail Value: $92.76
5-ml bottle Lemon
15-ml bottle Tangerine
Bonus 5-ml bottle of Aroma Life on Essential Rewards orders
Mineral Essence
190 PV Reward
Retail Value: $54.93
5-ml bottle Lemon
15-ml bottle Tangerine
Bonus 5-ml bottle of Aroma Life on Essential Rewards orders
Lemon
Lemon essential oil includes the naturally occurring constituent limonene. Lemon has a delightful citrus taste and is a versatile option for enhancing the flavor of foods and drinks, from roasted vegetables to lemonade.
Tangerine
Tangerine essential oil helps support a healthy lifestyle regimen.* This oil adds a sweet citrus flavor to foods and water and is a bright complement to marinades, side dishes, and dressings.
Aroma Life
Aroma Life combines the harmonizing scent of Ylang Ylang with powerhouse essential oils such as Cypress, Helichrysum, and Marjoram. With a fresh, vibrant aroma, this blend can energize any atmosphere when diffused. Only available on qualifying Essential Rewards orders of 190 PV or more.
Mineral Essence
Mineral Essence™ is a balanced, full-spectrum ionic mineral complex enhanced with essential oils.
10% Back in Essential Rewards Points
These points can be used like cash on future regular orders!  You must be enrolled in Young Living's Essential Rewards program to take advantage of this reward.
Happy Shopping this month!!