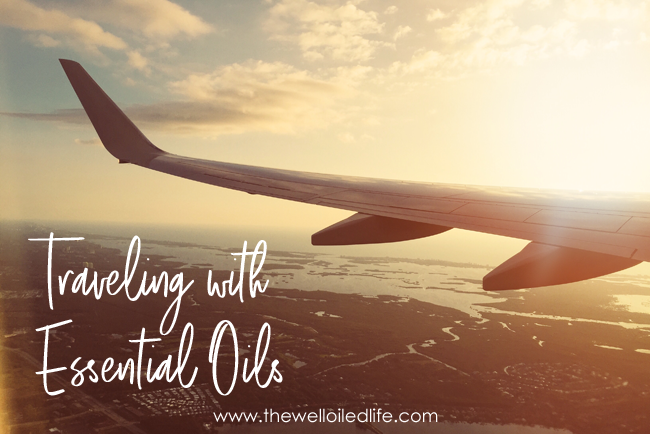 One of the top questions I get asked is how to travel with essential oils.  I think the real question people are asking is usually 'How do I FLY with my essential oils?', so I'm going to start there, and then talk about some of my favorite oils to travel with.  If you like videos better, you can watch this instead.  If not, keep reading below! (Post may contain affiliate links)
How to Fly With Oils
When you fly, you are allowed to pack a quart-sized ziplock bag with liquids as long as each container is 3.4oz or less.  A 15ml bottle is well below that, so I always end up filling my quart-sized ziplock full of my oils – I pack as many in as I can!
I always pack my ziplock of oils in my carry on bag, as I don't want to put them in my checked luggage.  On our honeymoon, the airline lost an entire suitcase of ours and it was never found, so I certainly wouldn't want to lose my oils like that on a trip!  You can always go out and buy new underwear and clothes when you're on a trip, but you won't be able to replace your oils that quickly!
Some people have concerns with x-rays damaging the oils since the oils have to pass through the x-ray machine.  I've always put my oils through, and they've been just fine.  I've read before that the oils return to their normal frequency within a certain period of time, and I've never noticed that the oils don't work after I've traveled with them.
One thing to note when you are flying with oils is that ROLL ONS WILL LIKELY LEAK!  So I always leave my Tranquil Roll On, Breathe Again, and Deep Relief at home, because I think the pressure of the plane does something to the roller ball mechanism, and the oils end up leaking all over.  I wrote a post about airplanes causing leaky roller bottles here.
In addition to the oils I pack in my ziplock for the plane, I also always pack my Thieves Hand Purifier and Thieves Spray.  These are a MUST in my opinion for traveling on a plane!  You can spray a napkin or tissue and wipe down the tray, seat belts, arm rests, etc. if tight, enclosed, public spaces gross you out like they do me!
My Favorite Oils to Pack
Here are the list of oils I always make sure to pack with me!
Thieves/Thieves Vitality – A travel must.  Take Thieves Vitality internally to support a healthy immune system.  Massage Thieves on the bottom of your feet before flying.
Lavender – When in doubt, use Lavender!  This is like the Swiss Army Knife of essential oils.  Also, if you're traveling to a sunny location, it's great to use for soothing sun-exposed skin.
Stress Away – Traveling can be stressful!  Wear this on your wrists, back of your neck, or behind your ears.  This one is also great to put on a diffuser necklace so you can grab a whiff when you need one.  ;)
Peppermint and Digize/Peppermint Vitality and Digize Vitality – Because when we travel we often eat stuff that is out of our norm, it's helpful to have some support in keeping our digestive systems working normally!  Add a few drops to your water or to an empty veggie capsule of the Vitality oils.  You can also rub Peppermint and/or Digize on your belly for a comforting aroma.
AromaEase – if you don't like motion, this one has a very comforting aroma with Spearmint, Peppermint, and Ginger.
Purification – Fantastic to diffuse or make a spray out of to freshen musty hotel rooms!
RC – Because this has 3 varieties of Eucalyptus, this helps you breathe well when changing climates.
Lemon Vitality – Great for adding to your water when traveling.  Make sure to only use this in GLASS, not plastic, since Lemon can dissolve petrochemicals (like your plastic water bottle).
ImmuPower and Oregano – we like to have these on hand and to massage them onto the bottoms of our feet at night when traveling.
Oils for Sleep!  Traveling can really throw off your sleep patterns because you're not in your own bed.  Favorites are Peace & Calming, Stress Away, Lavender, Cedarwood, and SleepyIze.  If you're not flying, I also love Tranquil Roll On (see above – I never fly with roll ons because they tend to leak).
TummyGize, SniffleEase, and SleepyIze – Great to pack if you're traveling with  kiddos.
PanAway and/or Cool Azul Pain Cream – If you'll be hiking, kayaking, surfing, or engaging in some sort of physical activity, these are great to rub on muscles!
Along with Thieves Hand Purifier, Thieves Spray, and Thieves Wipes, these are the oils I make sure to have on hand when I travel.
Bon Voyage Travel Kit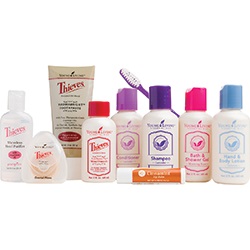 One kit to point out is the Bon Voyage Travel Kit!  All of these products are TSA-compliant (so you can pack them in your carry on), and it's a great way to bring your safe personal care products with you when you travel!  This kit includes:
Thieves® AromaBright Toothpaste, 60ml
Thieves Waterless Hand Purifier, 29.5ml
Thieves Dental Floss
Thieves Fresh Essence Plus Mouthwash, 60ml
Young Living Toothbrush
Lavender Shampoo, 60ml
Lavender Conditioner, 60ml
Cinnamint Lip Balm
Morning Start™ Bath & Shower Gel, 60ml
Genesis™ Hand & Body Lotion, 60ml
ART® Light Moisturizer, 10g
Extras
Some other items you might find handy when traveling are listed below:
I hope this post helps you plan your next vacation with your oils!  If you still need to get your own Young Living Essential Oils, I highly recommend the Premium Starter Kit.  If that doesn't fit your needs, contact me, and I can help you build a kit that's perfect for you!