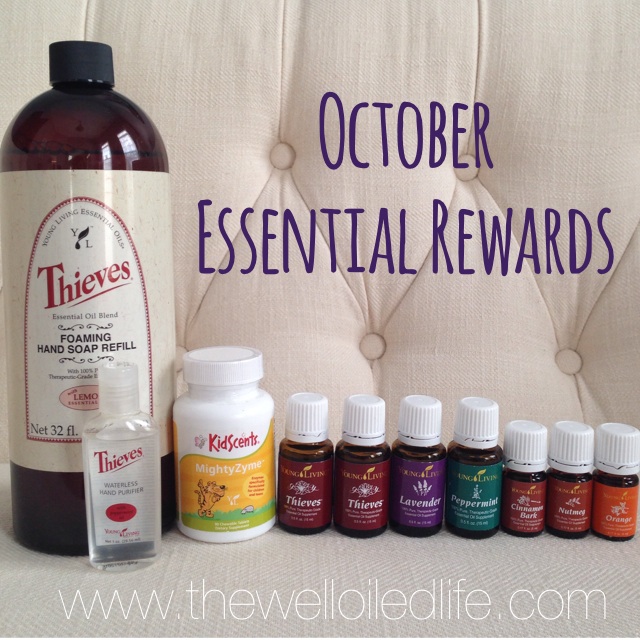 You know me… when my monthly Essential Rewards order arrives, it's like Christmas every month!!  I used this month to replenish many things I was getting low on…
Thieves Foaming Hand Soap Refill
Oh my gosh… I actually RAN OUT of my Thieves soap at home this last month!!  I lost track of how much I had left.  We had to use some stand-in soaps, and it was awful, haha!  When my order came, my husband was like, "Oh good!  Is that the Thieves soap refill?  I don't like that other soap we've had to use lately."  Haha!  We're all very glad this arrived.  :)
Thieves Waterless Hand Purifier
I needed to add another few dollars to my order to get the promo, and I like to keep a backup stock of this hand purifier.  We will definitely use it!
KidScents MightyZyme
You know I love these.  Just making sure we don't run out.  :)
Thieves Oil
Yes, I ordered 2 of these.  I NEVER want to run out of this.  Making sure our wellness is on point this winter.
Lavender and Peppermint
Again, just running low!!!  Need to keep the backups ready to go!
Cinnamon Bark, Nutmeg, and Orange
These were all free with this month's promo!  Yum yum yum!
*Disclaimer:  The information on this website is based upon my research and personal use of Young Living Essential Oils. I am not a doctor. Statements, products, and techniques mentioned have not been evaluated by the FDA and are not intended to diagnose, treat, cure or prevent any disease.  Read the full disclaimer here.