Congratulations on taking your first step in learning a new way to be healthy.
I am so excited you want to know more about Young Living Essential Oils!  These oils can truly help you and your family have a healthier body, mind, and home.  I know you are here looking for better solutions for your family's health, so I invite you to watch my Essential Oils 101 class below to see how oils can improve your world!
How can essential oils help you and your family?
You know actions like eating right and moving your body are important.  You know there are lots of things in our environment you'd like to avoid, but you're just not sure how… it can all feel so overwhelming at times.
I'm here to help give you a simple tool that will empower you to live a healthier life… Essential oils can help you have a healthier body, mind, and home naturally.
We live in a chemical laden world, and these chemicals are literally making us SICK!  Essential oils have been used for thousands of years around the world to keep people healthy.  Although they are 'trendy' right now, essential oils are definitely not new.  They are a simple, amazing tool to add to your toolbox if having a healthy body, mind, and home is important to you!
For a Healthy Body
Below are a few brief examples of how oils can support your healthy body naturally, no toxic chemicals or harmful side effects to worry about.
For a Healthy Mind
Oils are an incredible tool for supporting your mental and emotional health.  As a matter of fact, you can watch my video on using oils for reducing stress and boosting moods.
Below are a few brief examples of how oils can support your healthy mind and emotions naturally:
For a Healthy Home
Did you know our indoor air is 2 to 5 times more toxic than outdoor air?  Products like scented candle and waxes, air fresheners, off-gassing of laundry detergents, fabric softener, dryer sheets, and chemical household cleaners – ALL these things are harming us!  A recent study even showed that using chemical cleaners can be as damaging as smoking 20 cigarettes a day!  We can do better than this.  I know this is why you're here looking for a solution.  Essential oils can help.
Below are a few brief examples of how oils can support your healthy home naturally:
Essential oils make it easy for you and your family to have a healthy body, mind, and home – But not all essential oils are created equally!
Young Living Essential Oils – The Brand I Trust
Over 2 decades ago, Young Living started the essential oil movement in the United States.  Because people started noticing that essential oils work, they've started to become trendy in the last few years, which means LOTS of companies want to get in on the trend.  Now essential oils are showing up all over the place!
The problem is that no one is regulating the essential oil industry.  I always joke that someone could basically put ketchup in a bottle and label it as '100% pure therapeutic grade essential oil' because there is no one telling them they can't!
You see, the only essential oils that have the power keep our bodies and minds healthy are the ones that retain the therapeutic properties available in the original plant.
But when manufacturers are making oils in a lab instead of growing them (!), cutting them with less expensive oils, labeling floral waters as 'essential oils', extracting them with toxic chemical solvents, or distilling them multiple times and watering them down, essential oils are no longer effective for a healthy body, mind, or home!
Why would you use an essential oil to get rid of chemicals, and then use a chemical-laden 'essential oil'?  It wouldn't make sense!
Young Living's mission is to provide true, REAL, 100% pure, actual essential oils, with their therapeutic properties intact.
What sets Young Living far apart from the rest is their Seed to Seal promise.  Young Living has the most rigorous standards for the quality of their oils, from planting the Seed to Sealing the bottle.  They have no problem rejecting batches of oil that don't meet their strict standards (which other companies are happy to buy).  You can visit the farms and participate in the planting, see the fields being hand-weeded, and watch the distillation process.  It is amazing!
I use Young Living because not only because multiple practitioners I trust told me they found YL to produce the purest and most potent oils in their research, but my own research has led me to that conclusion as well.  Read about Seed to Seal and see for yourself!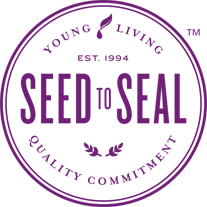 The Simplest Way To Bring the Power of Young Living Essential Oils To Your Home
The simplest way to get oils in your home is by purchasing a Premium Starter Kit.  This takes the guesswork out of what to purchase when you and your family want to start using Young Living oils for a healthier body, mind, and home.  This also gives you a 24% discount on all your Young Living products!
You'll get:
You can learn more about what's included in the Premium Starter Kit here.  You truly can begin to transform your health and home with this kit.
Want to get started another way?  No problem!  There are other starter kits available, or you can even build your own.  Let's chat and I'll help match you with the best kit for you!
Order Your Starter Kit and Add Young Living Essential Oils to Your Wellness Toolbox!
Order Oils Now
Click the button above to order, or
click here
for step-by-step ordering instructions.
Continue to Learn
While you're waiting on your kit to arrive, here are some helpful resources you can check out!
Oil Usage and Safety Information
Congratulations on taking an important step in upleveling your health!