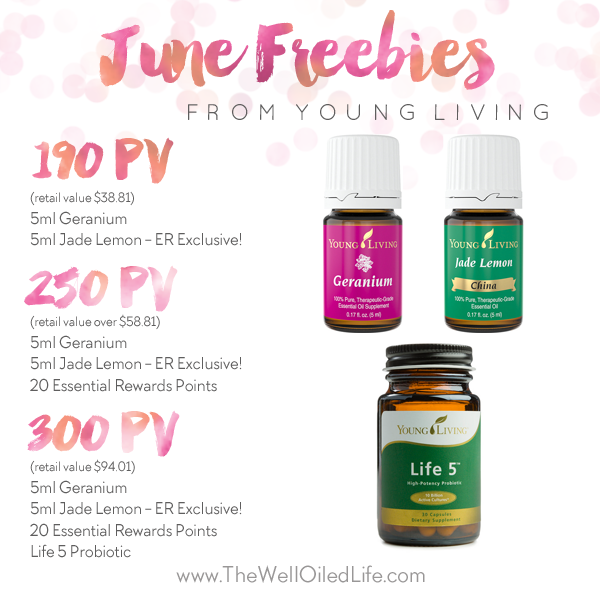 Oh I am PUMPED about this month's freebies!!  In case you don't know, every month Young Living releases a new monthly promotion.  These promotions are open to both RETAIL and WHOLESALE customers who reach the minimum PV levels in a single order.  When you reach these levels, you earn the free products listed!  Here is the rundown for the June 2015 Young Living Promotion…
300 PV Reward
Retail Value: $94.01
5-ml bottle Geranium
20 Essential Rewards Points
Bottle of Life 5 Probiotic
Bonus 5-ml bottle of Jade Lemon on Essential Rewards orders
250 PV Reward
Retail Value: over $58.81
5-ml bottle Geranium
20 Essential Rewards Points
Bonus 5-ml bottle of Jade Lemon on Essential Rewards orders
190 PV Reward
Retail Value: $38.81
5-ml bottle Geranium
Bonus 5-ml bottle of Jade Lemon on Essential Rewards orders
Geranium
Distilled from the petals and leaves of sweet-smelling geranium flowers, Geranium essential oil will inspire you when diffused or applied topically.  I love to mix a drop of Geranium in my face lotion at night, and it smells GREAT diffused with a complimentary oil!!
Jade Lemon
Okay, the smell of Jade Lemon is like Lemon on steriods!!  It smells SOO lemon-y, almost like candy!  From Young Living:  Jade Lemon™ is grown in the warm, humid climate of southeast China. While other lemons begin to release some of their oils aromatically as they turn yellow, the jade lemon fruit remains green even in maturity, allowing the concentration of oil to continue within the fruit. The oil is released only after the fruit is picked, giving it a richer and more fragrant aroma. Jade Lemon contains high levels of d-limonene.  Jade Lemon is available for free with your June Essential Rewards order of 190 PV or greater. (not available on non-ER orders)
20 Essential Rewards Points
For those enrolled in Young Living's Essential Rewards program, earning this reward will give you 20 more Essential Rewards Points to spend like cash on a future regular order!
Life 5 Probiotic
This is Young Living's probiotic!!  From YL:  Keep your gut happy with Life 5. Young Living's probiotic supplement supports core intestinal health and normal immune function.  A high-potency probiotic, Life 5™ represents the culmination of years of extensive research. Life 5 builds and restores core intestinal health by providing five clinically proven probiotic strains, including two advanced super strains to enhance intestinal health, sustain energy and improve immunity. Life 5 contains 8 billion active cultures and improves colonization up to 10 times.
I am SUPER excited about this month's promo and am getting my order together to earn these promos asap.  :)