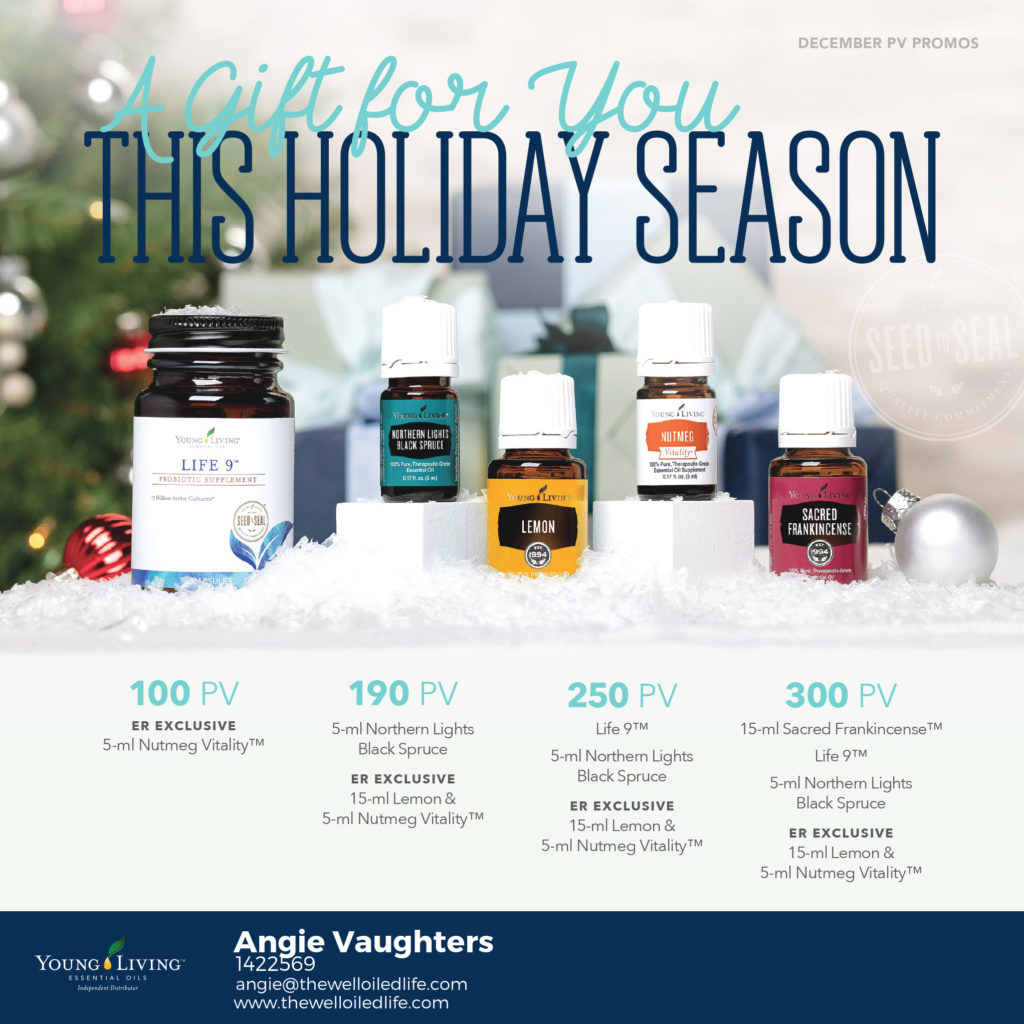 It's DECEMBER!!!  ? Time to celebrate the holidays!!  And time for a new Young Living monthly promotion!
As a reminder about how the monthly promotions work, if you have a single order that reaches one of the PV levels (100, 190, 250, 300PV), you will receive all the items at that level for FREE! For example, with a single 300PV order in December, all of the following will ship FREE with your order:
15-ml Sacred Frankincense
Life 9 Probiotic 
5ml Northern Lights Black Spruce
Bonus Essential Rewards exclusive: 15-ml Lemon 
Bonus Essential Rewards exclusive: 5-ml Nutmeg Vitality
Remember that Essential Rewards is Young Living's optional monthly autoship program, where you earn up to 25% back on your monthly orders!  You also receive less expensive shipping AND the "ER Exclusive" items that are part of the monthly promotion if your order reaches at least the 100 or 190PV level.  You can read more about Essential Rewards here.
December 2017 Young Living Monthly Promotion
100PV
If you order at least 100PV through the Essential Rewards program in December, you will get a FREE 5ml Nutmeg Vitality essential oil!
190PV
5ml Northern Lights Black Spruce
15ml Lemon – Essential Rewards Exclusive
5ml Nutmeg Vitality – Essential Rewards Exclusive
250PV
Life 9 Probiotic
5ml Northern Lights Black Spruce
15ml Lemon – Essential Rewards Exclusive
5ml Nutmeg Vitality – Essential Rewards Exclusive
300PV
15ml Sacred Frankincense!
Life 9 Probiotic
5ml Northern Lights Black Spruce
15ml Lemon – Essential Rewards Exclusive
5ml Nutmeg Vitality – Essential Rewards Exclusive
I hope you're able to take advantage of these AWESOME freebies this month!!  If you need help getting started, let's chat!  Happy December! ?❄️