Wow!!  Can you believe school is getting ready to start?!  It's already started in some areas!  This month Young Living is knocking it out of the park with a fantastic 'Back to School' monthly promotion, perfect for this time of year.  Be sure to scroll to the bottom of this post for an additional bonus for new members in August!
As a reminder, monthly promotions are available to both Retail Customers and Wholesale Members.  Simply spend 190, 250, or 300PV in a single order, and the items at that level will be sent to you for FREE with your order.
190PV
This month, when you order 190PV worth of product, you will receive a free 5ml Bergamot Vitality and 15ml Lime essential oil.  If your order is also your monthly Essential Rewards order, you will also receive a 15ml bottle of Clarity!  These freebies have a retail value of $86.52.
250PV
If you order 250PV worth of product, you will receive all items at the 190PV level PLUS a 3-pack of Thieves Hand Purifier.  Thieves Hand Purifier is a MUST for this time of year!  I send one in each of my kids' lunchboxes.  I also keep one in my car and in my purse.  The freebies at this level have a retail value of $104.62.
300PV
If you order 300PV worth of product this month, you will receive all items at the 250PV level PLUS a Deep Relief Roll-On and a Breathe Again Roll-On.  These are 2 of my favorite roll-ons!  Freebies at the 300pv level have a retail value of $173.69.
Additional Bonus!!!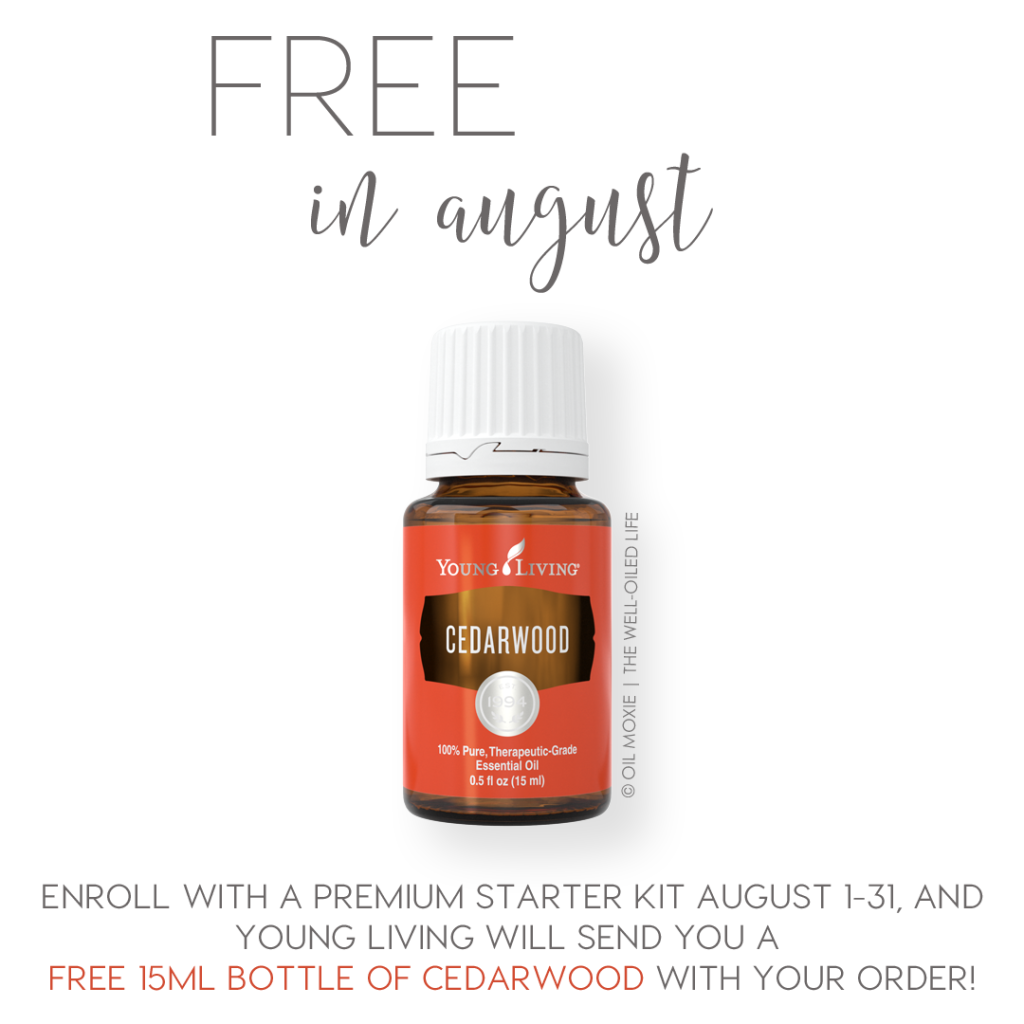 This is so exciting!  Any new wholesale member that enrolls from August 1-31 and purchases the Premium Starter Kit will also receive a bonus 15ml bottle of Cedarwood – FREE from Young Living!  This is in addition to the bonuses I send all my new enrollees! (14-day e-course, essential oil carrier, bottle cap labels, support, access to our Oil Moxie website and Community on Facebook).  August is a GREAT month to jump in if you have not already!  If you're ready, you can get your Young Living Premium Starter Kit here and enjoy all these bonuses!  Questions?  Contact me here, I'm happy to help.
Happy School Year!!