Yay!!  A new month means a new promotion!!  Young Living has some great promotional items for June 2014, including THREE 15ml bottles of oil, a $25 Essential Rewards Credit, and a bottle of Sulfurzyme Capsules!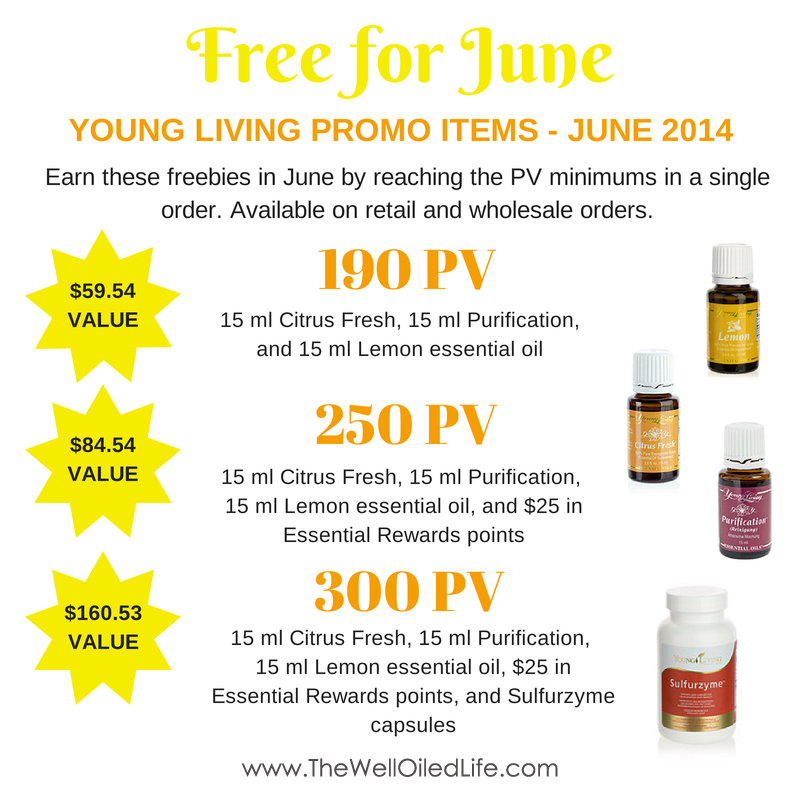 As always, the promotions are open to ANYONE, both retail customers AND wholesale members, who places an order that reaches the minimum PV in a single order.
190PV – 15ml Lemon, 15ml Citrus Fresh, and 15ml Purification essential oils
250PV – 15ml Lemon, 15ml Citrus Fresh, and 15ml Purification essential oils, and $25 Essential Rewards credit
300PV – 15ml Lemon, 15ml Citrus Fresh, and 15ml Purification essential oils, $25 Essential Rewards credit, and Sulfurzyme capsules
Lemon Oil
Young Living's Lemon essential oil is one of my most favorite oils!  I actually had it on my order this month until I found out it was going to be one of the freebies!!  I love using it in my water in the morning.
Citrus Fresh
Citrus fresh smells so good, it's one of my favorite oils to diffuse.
Purification
Young Living's Purification essential oil blend is another one of my favorites.  It smells fantastic, and sometimes I put it in the diffuser just because!  If you have younger kids who are beginning to need something to help keep their underarms smelling fresh, a mixture of Purification with water can be used in a spray bottle.  Purification is a blend of citronella, lemongrass, rosemary, melaleuca alternifolia, lavandin, and myrtle.
Sulfurzyme Capsules
I am super excited about Sulfurzyme being part of the promotion this month, it has been something on my wish list for quite some time!!  Sulfurzyme supports joint health and supports recovery time and acute inflammation associated with exercise.*  I am really excited to try this one!!
$25 Essential Rewards Credit
This can be used like cash!!  In order to take advantage of this award, you need to be enrolled in Young Living's Essential Rewards program.  Essential Rewards is Young Living's optional monthly autoship program… it is free to sign up and allows you to earn FREE product credits on all your Essential Rewards orders in addition to cheaper shipping!
Like I mentioned above, you can take advantage of Young Living's June 2014 promotion if you order retail or wholesale… but if you are interested in learning about becoming a wholesale member and saving 24% on your purchases every time you order, please click here to learn more!