It's a new month, and that means new Young Living monthly promotions!!  Here's what's in store for July 2014…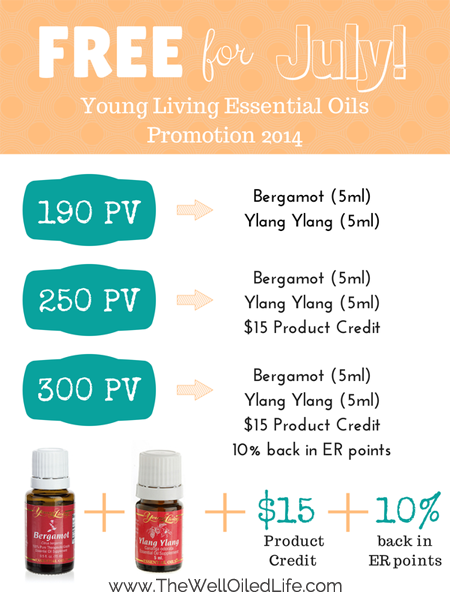 Who Qualifies for the Promotions?
The monthly promotion is available to anyone, both customers and wholesale members, who hit the different PV levels in a single order.
190PV – 5ml Bergamot and 5ml Ylang Ylang
250PV – 5ml Bergamot, 5ml Ylang Ylang, and $15 Product Credit (to be used like cash!)
300PV – 5ml Bergamot, 5ml Ylang Ylang,  $15 Product Credit (to be used like cash!), and 10% back in Essential Rewards points!
Bergamot
Loved for centuries and used as an ingredient in some of the earliest colognes, Bergamot essential oil's citrus aroma is at once empowering and light, making it perfect for both men and women as a refreshing personal scent. Bergamot can lift the spirits, promote confidence, and purify and nourish the skin.
Ylang Ylang
With an alluring, jasmine-like aroma that promotes feelings of romance and passion, Ylang Ylang essential oil is a popular floral top note in some of the finest fragrances for men and women. Ylang Ylang essential oil promotes beauty inside and out—pampering and nourishing hair and skin, while its scent banishes inner conflict and feelings of anger.
$15 Product Credit
This credit will be added to your account and can be used like cash!
10% Back in Essential Rewards Points
When your order reaches at least 300PV, you will receive 10% back in Essential Rewards Points if you are enrolled in the Essential Rewards program… so you will earn a minimum of 30 points, which is equivalent to $30!  Young Living's Essential Rewards program is a great way to earn free product on your monthly orders and get reduced-cost shipping!
Not a Member?
Yes, you can take advantage of these promotions if you are a retail customer… but remember that you will save 24% on your products when you enroll as a wholesale member!  Please don't hesitate to get in touch if you need help walking through the process!