Oh I love when Young Living's monthly promotions come out!!  Such a sense of anticipation… "What new FREE things can I try this month?!"
Here are the Young Living monthly promotional items for May 2014… the two free oils are Aroma Siez and Oregano, and there is more!!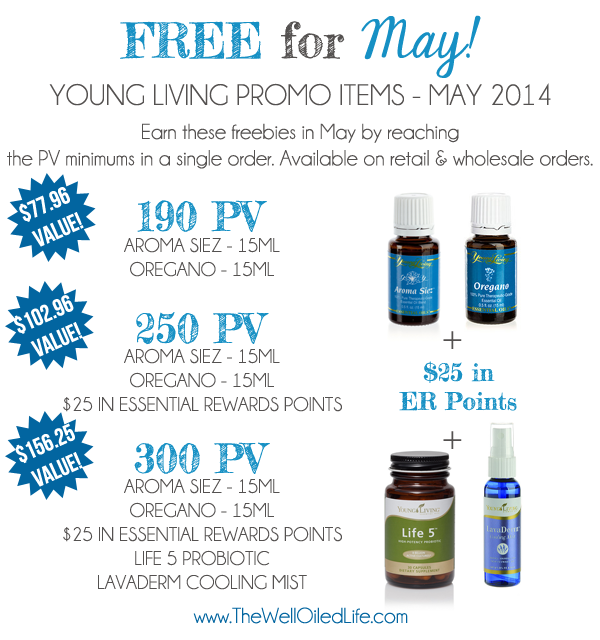 The monthly promotion is available to both customers and wholesale members who hit the different PV levels in a single order.
190PV – 15ml Aroma Siez and 15ml Oregano
250PV – 15ml Aroma Siez, 15ml Oregano, and $25 in Essential Rewards points
300PV – 15ml Aroma Siez, 15ml Oregano, $25 in Essential Rewards points, Life 5 Probiotic, and LavaDerm Cooling Mist
Aroma Siez
Aroma Siez is one of the oils used in the Raindrop Technique.  It was formulated to help relax, calm, and relieve tension of life's little discomforts.  It contains basil, marjoram, lavender, peppermint, and cypress.
Oregano
Oregano is also one of the oils used in the Raindrop Technique.  You can also use this oil in recipes!
$25 in Essential Rewards Points
If you don't know what Essential Rewards is, it is Young Living's optional (awesome) autoship program where you get cheaper shipping and earn FREE PRODUCT credits on your orders!!  When you earn this award during May's monthly promotion, $25 worth of product credit will be added to your Essential Rewards account (obviously you must be enrolled in this program).
Life 5 Probiotic
Life 5 is Young Living's probiotic containing 8 billion active cultures from five different probiotic strains to support intestinal wellness.  It is shelf stable so it doesn't need to be refrigerated.  Also safe for children!
LavaDerm Cooling Mist
LavaDerm combines cooling Lavender essential oil with soothing aloe vera extract.  It provides wonderful relief to irritated skin.
These are some awesome freebies for May!  Remember these offers apply to both wholesale members and retail customers.  If you do not currently have a wholesale membership to Young Living, you can learn about getting a wholesale account here!
*Disclaimer:  The information on this website is based upon my research and personal use of Young Living Essential Oils. I am not a doctor. Statements, products, and techniques mentioned have not been evaluated by the FDA and are not intended to diagnose, treat, cure or prevent any disease.  Read the full disclaimer here.