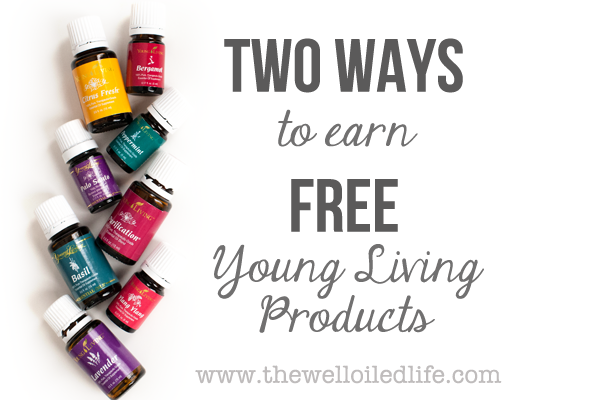 Did you know there are TWO ways you can earn FREE Young Living products?  Yes!!  And you can combine them for even more benefit!
Way #1 – Young Living's Monthly Promotions
Every month Young Living has a different monthly promotion, offering free products and bonuses when your order reaches certain minimums.  The minimum usually starts at 190PV, and the 190PV promotion is usually one or more free bottles of essential oil!  You can earn more product/bonuses if your order reaches 250PV and even more if it reaches 300PV.  (note – PV is typically the wholesale dollar value of the item, before tax and shipping)  Here is October 2014's monthly promotion as an example: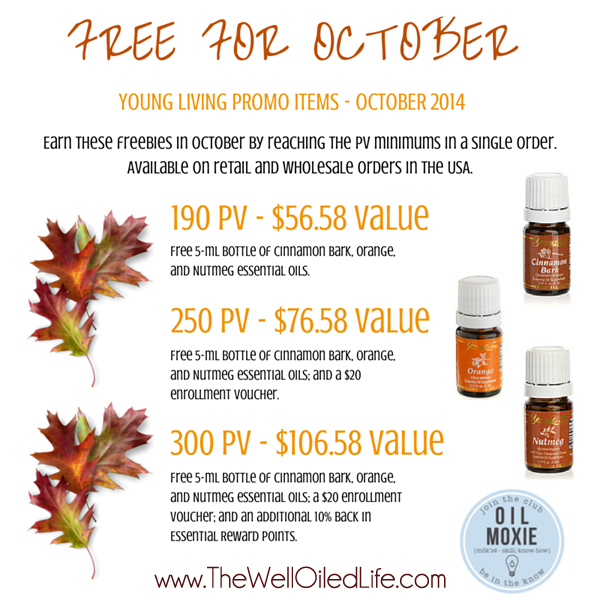 So when you are ordering, keep in mind those promotion levels (190PV, 250PV, and 300PV)!  There have been many times my orders have come to, say, 185PV… If I wasn't paying attention, I would have missed the monthly promo!!  These are the times I add something small to my order (like a couple lip balms or a Thieves Waterless Hand Purifier) to get me to the next promotion level (190 PV in this case) so I can earn some free goodies.  :)
Way #2 – The Essential Rewards Program
The Essential Rewards Program is Young Living's optional monthly autoship program.  This program is GREAT because you earn Essential Rewards points on your Essential Rewards orders, which can be redeemed on regular orders like cash!  (a few exclusions apply)  So with every Essential Rewards order you place, you are earning free product!!
Months 1-6 – Earn 10% back in Essential Rewards points
Months 7-12 – Earn 15% back in Essential Rewards points
Months 13+ – Earn 20% back in Essential Rewards points
You can read more in-depth about Young Living's Essential Rewards program here.
Double Whammy!
If you are enrolled in the Essential Rewards (ER) program AND place an ER order of 190PV or more, not only will you be receiving ER points to redeem like cash, but you will also receive the FREE products from the monthly promo!
Let's say you are earning 20% on your ER orders since you've been enrolled in the ER program over a year, and you place a 190PV ER order…
You will earn 38 ER points (20% of 190, equivalent to $38 wholesale) PLUS you will earn the monthly promo at the 190PV level, which is usually worth anywhere from $30-$60 retail!  If your order is higher, you will obviously earn even more ER points and potentially be eligible for more monthly promo items!
Bottom Line
The best way to earn the MOST FREE PRODUCT is to hit one of the promotional levels (190PV, 250PV, or 300PV) with your monthly Essential Rewards order – this will earn you the max amount of free product!!!