I sure wish I had oils when my kids were babies!  There are so few things that are safe for babies when they are not feeling like themselves, and I would have loved to have a stash of oils to get me through some of those tough times. Wouldn't a basket of oils with a booklet on how to use them would make a GREAT baby gift?!
Below is a list of my Must-Have oils for babies, along with a few uses for common issues that babies experience.  There is so much more I want to say in terms of how I would use these oils on my baby, but legally I cannot!  You can find out exactly how to use each oil listed here, plus many other uses I cannot talk about, in Debra Raybern's Gentle Babies book (see the Resources page if you're looking for this book, it's very inexpensive!).
Here are my top picks of essential oils for babies, based on the recommendations in Gentle Babies!!
#1 – Lavender
My top pick is lavender because it is one of the most versatile oils.  It can support normal sleep, cleanse skin irritations, and relax the mind and the body, among a long list of other things!  Lavender is known as sort of the Swiss Army knife of oils, and has traditionally been known to balance the body and work where there is a need.  When in doubt, use lavender!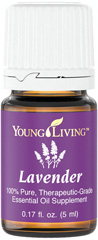 Can be used for:  Calming • Crying • Skin Irritations • Sleep • More! (see Gentle Babies book)
#2 – Di-Gize
Babies can experience lots of minor, occasional tummy issues, right?!  Di-Gize is a blend containing tarragon, ginger, peppermint, juniper, fennel, lemongrass, anise, and patchouli.  These oils may help to support the digestive system.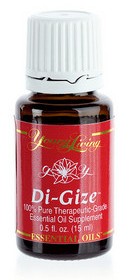 Can be used for:  Occasional Gas • More! (see Gentle Babies book)
#3 – Thieves
This blend is highly effective in supporting the immune system and good health.  Thieves contains clove, lemon, cinnamon bark, eucalyptus radiata, and rosemary.  I use it any time immune support is needed!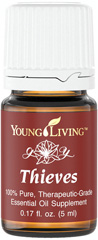 Can be used for:  Immune Support • More! (see Gentle Babies book)
#4 – Peace and Calming
Peace and calming is a blend containing tangerine, orange, ylang ylang, patchouli, and blue tansy.  It can promote relaxation and help with sleep.  This oil is GREAT for mom, too!  I use it when my mind just won't shut off, even when I am exhausted.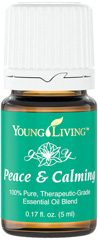 Can be used for:  Crying • Sleep • Relaxation • More! (see Gentle Babies book)
In Conclusion…
Of course there are many oils that are helpful for babies, but if I had to just pick a few, these would definitely be my top picks.  These four oils can cover a really large range of common baby issues, again outlined in Gentle Babies.  I would have LOVED to have them when I had babies!  I think I wouldn't have felt quite so helpless in so many situations!
Again, I can't recommend the book Gentle Babies enough… it tells exactly how to use the oils for pregnancy, childbirth, on infants, and on young children. (see Resources)
You will also want a carrier oil, something that you can dilute these oils with, such as olive oil, coconut oil, or Young Living's V-6 oil!
And remember… Lavender and Thieves are part of the Premium Starter kit!
*Disclaimer:  The information on this website is based upon my research and personal use of Young Living Essential Oils. I am not a doctor. Statements, products, and techniques mentioned have not been evaluated by the FDA and are not intended to diagnose, treat, cure or prevent any disease.  Read the full disclaimer here.