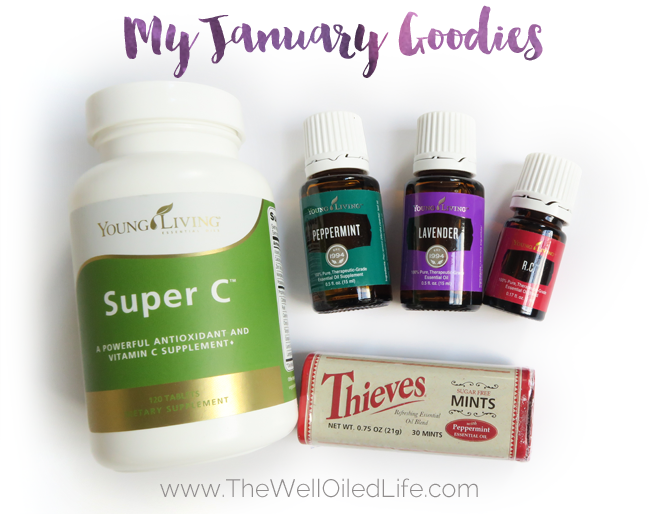 Well hello there!!  If you want a peek inside my January goodie box (aka my Young Living Essential Rewards order), you've come to the right place.  This month I just needed to replenish a few oldies-but-goodies.  NOT pictured is my bottle of Thieves Household Cleaner which went on backorder at the last minute… so I am waiting (patiently?) for that.  :)  Tip – if you have this cleaner but don't know how to dilute it, read here!
My husband has been taking the Super C tablets, my kiddos LOVE the Thieves mints (which you already know if you've followed along here at all!), and three of our regularly-used essential oils are Peppermint, Lavender, and RC… it was time to stock up!
Stay tuned for some exciting news coming soon from Young Living.  :)  Thanks for visiting!
*Disclaimer:  The information on this website is based upon my research and personal use of Young Living Essential Oils. I am not a doctor. Statements, products, and techniques mentioned have not been evaluated by the FDA and are not intended to diagnose, treat, cure or prevent any disease.  Read the full disclaimer here.