When my Young Living Essential Rewards order arrived this month, it really was like an early Christmas.  Normally I don't order this much, but if I was going to place a big order, this month was one to do it since one of the December promotions was an extra 10% back in ER points!!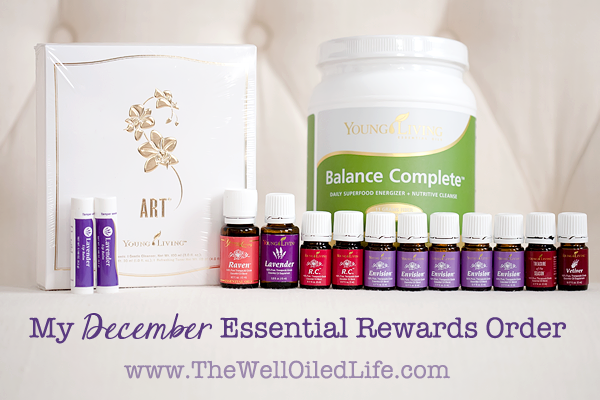 Here is what came!!
ART Skin Care System
I was SO excited to receive this.  I used the previous ART Skin Care System, and I really loved it.  This new system has been reformulated a bit and now contains the foaming cleanser, toner, and light moisturizer (the old system had a cleanser, toner, and a day and a night moisturizer).  Look for my coming post on these new ART products!
Balance Complete
Have you tried this?!  Wow!  It is so good!  Balance Complete is Young Living's super-food-based meal replacement.  The flavor is vanilla cream, and blended with a frozen banana, this tastes amazing.  It's even husband approved!!!
Lavender Lip Balm
This is my favorite lip balm.  Like, ever.  I did a quick post about it here.
Raven
Raven is one of the essential oil blends I MUST keep on hand during the winter.  This is one of my daughter's oils.  Every day, I rub this on her neck and chest, and I diffuse it in her room at night.  I love it because it smells a little like wintergreen.  :)
Lavender
Must. never. run. out. of. LAVENDER.  :)  I rub this on my kids' feet every day and diffuse it in my daughter's room at night.  Plus I use it for a myriad of other things!
RC
RC is one of the essential oil blends that I keep on hand for my son during the winter.  Where my daughter does better with Raven, my son does better with RC.  I rub this on his neck and chest every day.
Envision
Yes, I ordered a lot of these this month!  They are for a special purpose  ;)  Envision smells great diffused!!!  Some even wear it as a perfume.
Treasure of the Season
I was SO excited to receive this essential oil blend FREE this month!  It was only available to those who qualified for December's promotion, it is not otherwise part of Young Living's product lineup.  Treasure of the Season contains 2 types of Frankincense, Idaho Blue Spruce, and Cinnamon.  It has a very earthy, woodsy, mellow smell and smells really nice in the diffuser.
Vetiver
I honestly have never used Vetiver before!!  It, again, was a free oil that came as part of the promotion.  From the Young Living website… "Vetiver has a heavy, earthy fragrance similar to patchouli with a touch of lemon. Vetiver oil is psychologically grounding, calming, and stabilizing."
Well that sure was an awesome box of early Christmas gifts!!
*Disclaimer:  The information on this website is based upon my research and personal use of Young Living Essential Oils. I am not a doctor. Statements, products, and techniques mentioned have not been evaluated by the FDA and are not intended to diagnose, treat, cure or prevent any disease.  Read the full disclaimer here.