February is always such a hard month to get through here in the Midwest, I think… the holidays are over, the excitement and 'new-ness' of the New Year has worn off, and it's just… well… cold and gloomy outside!!  Which is why I was so excited to find my package of Young Living goodies on the front porch this month!!!  I tell ya… Christmas every month!  :)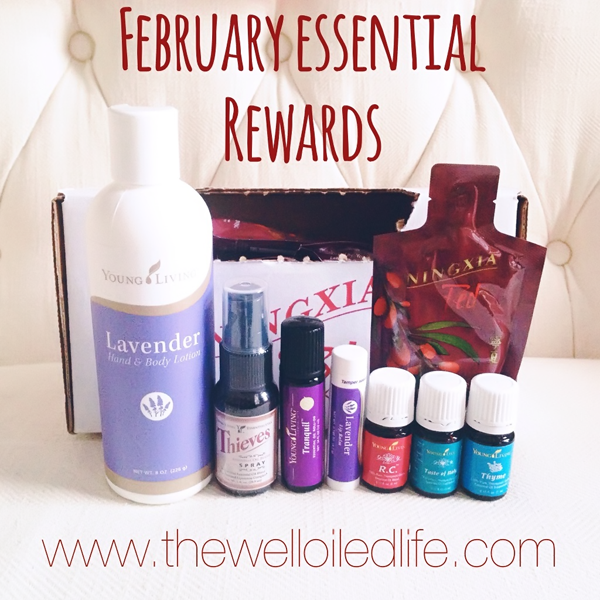 Here is what I ordered this month!!
NingXia Red
I ordered the packets this month since the bottles are liable to freeze this time of year!!  Each packet contains 2 ounces, the perfect amount.
Thieves Spray
I love this stuff… I take it with me when I travel, it is great for spraying down airplane trays and hotel rooms (see my post on why Thieves spray is a MUST while traveling!).
Tranquil Roll-On
This one is new for me!  Tranquil roll-on contains lavender, cedarwood, and roman chamomile.  It is formulated to calm and relax the body and mind.  Lavender and cedarwood can help promote restful sleep, so I am looking forward to this one!
Lavender Lip Balm
My favorite lip balm.  Ever.
R.C.
We love this oil.  It is great diffused and rubbed on chests or feet!  And it smells great, too!
Lavender Hand and Body Lotion
This was a freebie this month!  I have never tried Young Living's lotion, and I am loving this!  The texture is thick enough to moisturize effectively but not too thick to spread.  Of course it contains lavender oil, so it smells nice and is wonderful on the skin.  I'm so glad I got this free, I have so many lotions at home I'm not sure I would have tried this on my own!  I'm lovin' it!
Taste of Italy
This was another freebie this month!  Taste of Italy is only available through February 2015's monthly promotion.  It is a blend of Thyme and 4 different varieties of Oregano.  It can be used in cooking.
Thyme
This was yet another freebie this month!  I was excited because I regularly order Thyme to use for wellness support… I don't love the way it smells, but I sure do love how it works for us!
That's all for this month… hopefully when my order shows up next month, the temperatures will be on the rise!!
*Disclaimer:  The information on this website is based upon my research and personal use of Young Living Essential Oils. I am not a doctor. Statements, products, and techniques mentioned have not been evaluated by the FDA and are not intended to diagnose, treat, cure or prevent any disease.  Read the full disclaimer here.