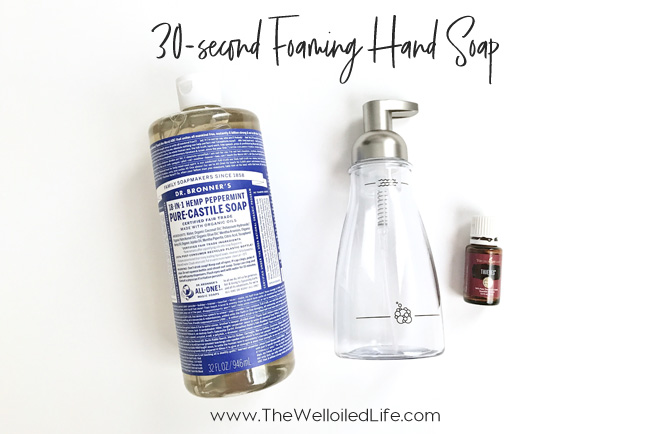 I want to start off my saying I am NOT, I repeat NOT, a DIY person (that's Do-It-Yourself for those who don't DIY either!).  But when my friend Sarah kept telling me about this stupid-simple soap she was making and how awesome it was, I decided to give it a try!!  She said she was constantly getting compliments from her guests on her soap, so to the store I went to get a foaming soap bottle!!
This is the EASIEST thing to make ever.  It honestly takes 30 seconds and costs under $0.50.  And it smells and FEELS amazing.  Who would have thought?!
Here's what you do:
Fill 1/3 of your foaming soap bottle with Castile Soap (Dr. Bronner's Peppermint Castile Soap makes this smell awesome when combined with Thieves!)
Fill the rest up with water (leaving room for the pump top of the bottle)
Add 10-15 drops of Thieves essential oil
Shake
Honestly.  It takes 30 seconds, and the most luxurious foam gets pumped out of the bottle when you go to use it!  It is non-drying to our skin, which is especially important in the winter, and it smells AMAZING.
Here is a quick video so you can see how easy this is to make:
Do you make your own soap?  Let me know in the comments if you have any favorite essential oils you use to make them with!  Save some serious cash and use some of the most luxurious-feeling soap at the same time!!!
Still need to get your Young Living Essential Oil Starter Kit?  Order here or contact me with any questions!!
This post may contain affiliate links
*Disclaimer:  The information on this website is based upon my research and personal use of Young Living Essential Oils. I am not a doctor. Statements, products, and techniques mentioned have not been evaluated by the FDA and are not intended to diagnose, treat, cure or prevent any disease.  Read the full disclaimer here.