Here is the new free product promo for September from Young Living!!  Who doesn't love FREE?!
These offers are available to both Retail and Wholesale customers who place a single order worth 190 PV or 250PV during the month of September.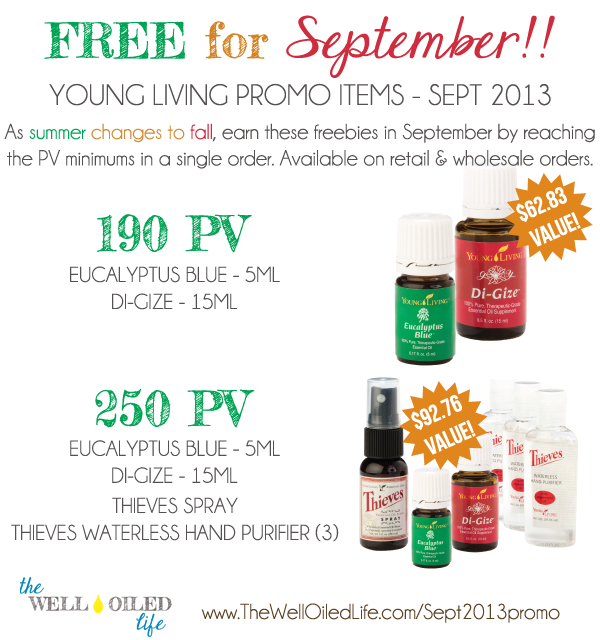 If you reach 190 PV in an order, you will receive a FREE 15ml bottle of DiGize and 5ml bottle of Eucalyptus Blue.  This is a $62.83 value!
When you place an order of at least 250 PV, you will receive the DiGize, the Eucalyptus Blue, a bottle of Thieves Spray, and a 3-pack of Thieves Waterless Hand Purifier.  This is a $92.76 value!
DiGize is a unique, proprietary blend from Young Living containing Peppermint essential oil, among others.
Eucalyptus Blue is part of the eucalyptus family.
Thieves Spray can be used to clean surfaces with the power of Thieves… door handles, countertops, etc!
Thieves Waterless Hand Purifier uses the power of Thieves oil to clean your hands when washing is not an option.
Take advantage of these awesome free products this month, just in time for winter!
*Disclaimer:  The information on this website is based upon my research and personal use of Young Living Essential Oils. I am not a doctor. Statements, products, and techniques mentioned have not been evaluated by the FDA and are not intended to diagnose, treat, cure or prevent any disease.  Read the full disclaimer here.