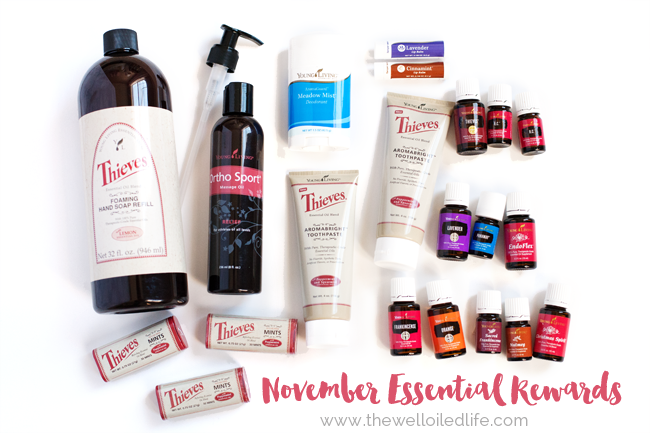 Yes, my order this month was HUGE!  But part of the reason there is SO MUCH here is that I got SIX FREE products, worth over $250!!  I have never seen Young Living do this before, but the November 2015 monthly promotion is amazing.  You have until November 30th to take advantage of this, and you can actually earn the monthly promo TWICE.  Wow.  Obviously I took advantage of all the free product this month!
Free Products
Let's start with the free product I received this month… Frankincense is one of my favorite oils, and I was getting ready to order another soon.  This oil is very precious… and costly!  It currently retails over $96!  Of course you can save 24% like I do with a wholesale membership bringing it down to under $75.  But still!!  It's also part of the Premium Starter Kit, so that is another way you can get your hands on it… however, I was more than happy to get it for free this month.
Sacred Frankincense was free as well.  Only Young Living produces this amazing variety of Frankincense.
Orange and nutmeg were free, some amazing oils for the holiday season.  And Christmas Spirit was also free – this is one of my most favorite oils to diffuse this time of year!  It smells like you have hot mulled cider simmering on the stove.  LOVE.
Ortho Sport massage oil was free with my order, and I'm looking forward to using this one, it's a first for me!
My Regulars
You know I love Young Living's lip balms.  I ordered my regular Lavender lip balm, but I decided to get a little wild and crazy this month and give Cinnamint a try, too.  ;)
My favorite hand soap, like ever, is the Thieves Foaming hand soap.  I was in need of another refill.
My kiddos and I LOVE the Thieves Mints.  It has become part of their morning routine before we hop in the car to go to school… these go quickly around here!
I really like the Thieves Aromabright Toothpaste, it makes your teeth feel super clean.  My sister was just telling my mom how awesome this toothpaste is, so we have her using it now, too.  :)
I have a natural deodorant I really like, but it contains baking soda which is sometimes irritating.  As a solution, I put a thin layer of Young Living's Mountain Mist Deodorant as a barrier between my skin and my favorite deodorant, it really soothes the sensitive skin under my arms!!
As for oils, I was low on Lavender, Thieves, RC, Panaway, and EndoFlex.
So yes, this was a BIG order, but almost half of it was free!!  :)  Did you take advantage of this month's promo?!  Put that Christmas Spirit in the diffuser!!!
*Disclaimer:  The information on this website is based upon my research and personal use of Young Living Essential Oils. I am not a doctor. Statements, products, and techniques mentioned have not been evaluated by the FDA and are not intended to diagnose, treat, cure or prevent any disease.  Read the full disclaimer here.