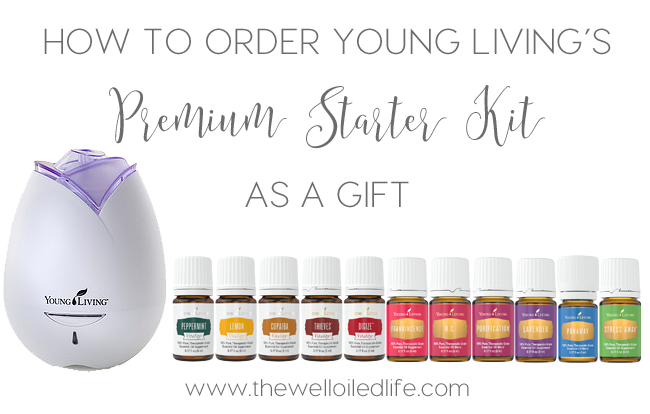 **Update!  As of March 2017, you can now order someone a kit under their own name WITHOUT having to input their Social Security number!!  Just make sure that you don't ruin their surprise by having email correspondence going to them (like order confirmation)! **
I get a lot of questions during certain times of year (like Christmas!) from non-Young Living members about how to order Young Living's Premium Starter Kit as a gift for someone, so I want to give you your options!  This essential oil kit makes a FANTASTIC gift, so I want to help you figure out the best way for you to get it in your loved one's hands!
The reason that ordering a kit for someone is a little tricky is that Young Living requires a social security number (SSN) when purchasing a Premium Starter Kit.  I'll explain why.  When you purchase a Premium Starter Kit, it also includes a wholesale membership, which is great because members save 24% on anything they buy in the future!
But the reason the SSN must be collected is that wholesale members can earn referral bonuses if they ever refer someone to Young Living.  You can even start building a bona fide business as a wholesale member!  Please remember that sharing Young Living, earning bonuses, or building a business is never required.  But what this means for Young Living is that they are required by law to collect a wholesale member's SSN for tax purposes in the event that commissions are ever payed out.
Now that you know WHY the social security number must get collected, let's talk about the options you have if you want to give someone a Premium Starter Kit as a gift!
Options on Giving the Premium Starter Kit as a Gift
1. Sign up your friend/loved one as a wholesale member with their social security number.
If the person you are buying the Premium Starter Kit for is very close to you, for instance your spouse or maybe a child, you can sign them up for an account in their name with their SSN.  This may be the most straightforward way to purchase the kit for someone, and you could present them with their actual kit!  They could also easily reorder anything in the future using their 24% discount, and they could get plugged into our Oil Moxie resources.  However, signing someone up with THEIR SSN is not usually possible if they are not a close family member.  If you do decide to order the Premium Starter Kit in your loved one's name through me, please contact me so I don't email them and spoil any surprises!  Also, be sure to include YOUR ADDRESS AND EMAIL so the kit and all correspondence go to YOU!  Your loved one can change this info once you surprise them.  :)

2. Sign yourself up as a wholesale member with your social security number.
You can purchase the kit in your name (with your SSN) and then just gift them the kit.  There are a few downsides to doing this, however.  Since the wholesale account with which you purchased the kit is in YOUR name, your friend/family member won't be able to reorder at wholesale pricing unless they get their own wholesale account (by purchasing another starter kit) or unless you place an order for them using your account again.  Also, they won't be plugged into an oil community with resources (like our Oil Moxie team!) or get any correspondence from Young Living since, again, the account is not in their name, it's under yours. Please note this option might work fine if you are just ordering oils for your spouse.
3. Give your friend/loved one a 'gift certificate' along with the funds to purchase their kit.
Now this would not be a gift certificate in the purest form since it is not 'pre-paid', but if you contact me, I can send you a printed "A Gift For You" gift certificate to give them, showing a picture of the Premium Starter Kit on the front (see below) with instructions on the back showing how to order the kit.
Along with the gift certificate, you can then include the funds (check, cash, pre-paid Visa, etc.) for them to purchase the kit in their name.  I truly think this is the best option when ordering for someone who isn't a spouse, because their account will be in their name, they can easily get plugged into our Oil Moxie community with resources they need to get started, and best of all, they can easily reorder at any time with their 24% discount, and there will be no hassle.  As their enroller, I will take good care of them and make sure they have the support they need!  (FYI – With tax and shipping, the Premium Starter Kit with the Home or Dewdrop diffuser comes to roughly $180.)
This is a sample of what the gift card I can send you will look like: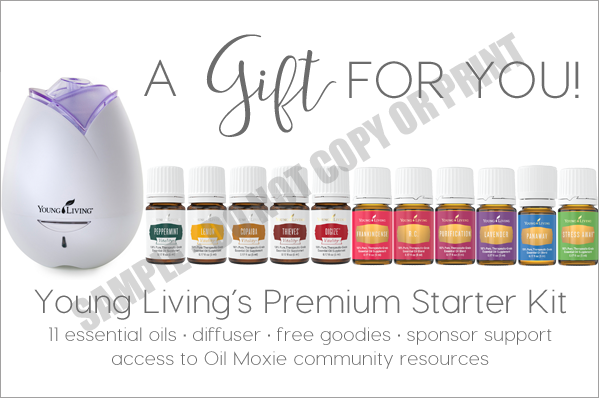 If this is the option you prefer when giving Young Living's Premium Starter Kit as a gift to someone, please contact me and I can send you the printed gift certificate you can give to them!  Again, please note that Young Living does not offer gift certificates, this is just a printed certificate you can give to them along with the funds to purchase the kit in their name with their SSN, so they have their own account.  :)
Thank you so much for visiting!  And you are AWESOME for considering gifting someone with their own essential oil kit, it is life-changing for many!!
Save
Save
Save
*Disclaimer:  The information on this website is based upon my research and personal use of Young Living Essential Oils. I am not a doctor. Statements, products, and techniques mentioned have not been evaluated by the FDA and are not intended to diagnose, treat, cure or prevent any disease.  Read the full disclaimer here.