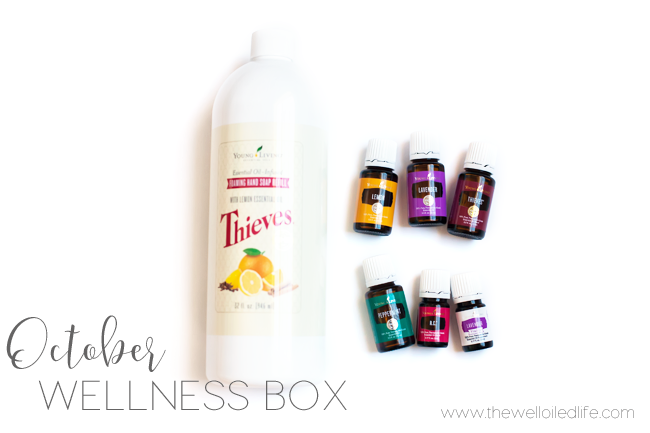 Welcome to my October Wellness Box, aka my Young Living Essential Rewards order.  ;)  This month was all about replacing the products I use the most.  I always like to have an extra on hand of each of these!
If you're not familiar with Essential Rewards, it is Young Living's optional monthly autoship program/customer loyalty program.  It's awesome because you earn free product credits on your monthly orders… I have earned TONS of FREE product this way!
I love getting a peek in other people's 'wellness boxes', so I like to share mine when they arrive!!
This month I needed another Thieves Foaming Hand Soap Refill.  It's cheaper to purchase the hand soap this way, and we have used this for several years.  I love both how this soap smells AND how it cleans.
As for oils, this month I needed more Lemon, Lavender, Peppermint, Thieves, and RC.  Because of the Monthly October Promotion, I also earned a free Lavender Vitality oil!
On this order, I earned 35 ER points, which converts to $35 in FREE product! 🎉  I use Young Living products daily, so why not earn some freebies on my monthly orders?!  If you're not enrolled in Essential Rewards and use Young Living regularly, definitely check out this great program!
*Disclaimer:  The information on this website is based upon my research and personal use of Young Living Essential Oils. I am not a doctor. Statements, products, and techniques mentioned have not been evaluated by the FDA and are not intended to diagnose, treat, cure or prevent any disease.  Read the full disclaimer here.