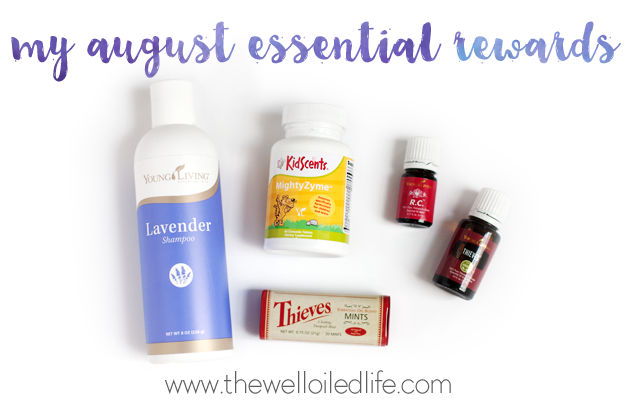 Christmas in August?!  Well, it doesn't have any special ring to it, but it sure feels like Christmas every month when the FedEx man delivers my monthly Young Living package!
I didn't need too much this month, just stocking up on a few faves for the school year (wah!!).  Thieves and RC are musts for us during the school year.  We frequently use RC in the diffuser at night.
I also am trying the Lavender Shampoo for the first time…  so far I am loving it!  You can definitely smell the lavender as you lather!  This shampoo lathers really well and rinses out cleanly.
Thieves Mints have become a favorite.  I don't know if this happens to you, but sometimes I just want something to snack on/chew on/suck on.  Normally I find myself mindlessly looking into the pantry, but lately I keep these mints nearby and grab one of these instead!  My kids love these, too.  For some reason, every time we get in the car they ask me for one.  :)
And we are still loving the MightyZymes!  My kids still get one of these children's digestive enzymes after dinner, before bed.
I can't wait until next month's Essential Rewards order – I'm definitely going to be trying at least one new product from Convention!!
*Disclaimer:  The information on this website is based upon my research and personal use of Young Living Essential Oils. I am not a doctor. Statements, products, and techniques mentioned have not been evaluated by the FDA and are not intended to diagnose, treat, cure or prevent any disease.  Read the full disclaimer here.