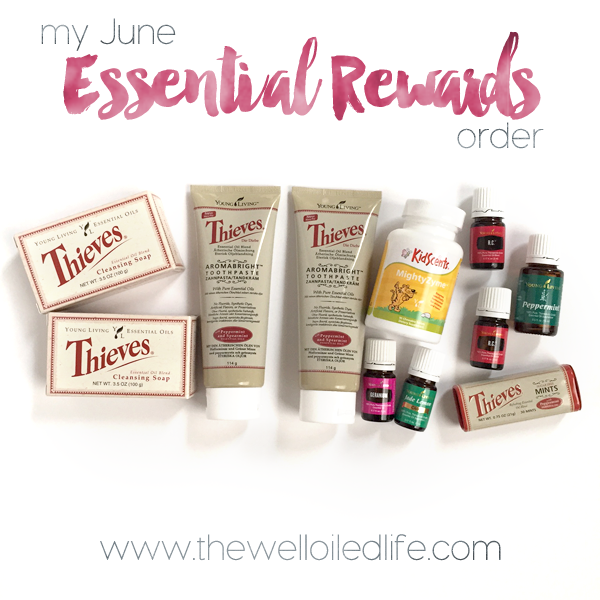 I am really excited about my June monthly goodie box (aka my Essential Rewards order!).  I am getting to try lots of things that I've never tried before!  Young Living has such a diverse product line, that I've been using their products for over 2 years and there are still plenty of things I haven't tried yet.
Thieves Toothpaste
I ordered a tube of Thieves Toothpaste last month for the first time after hearing tons of people talk about how they love it, and they are right… I LOVE it!  My teeth just feel super CLEAN, like squeaky clean, after I use it.  One thing to note is that it doesn't get very sudsy, if you are used to natural toothpastes you will probably expect that anyway.  If you're not expecting it, the lack of suds might seem weird at first.  But you will quickly get used to it, especially after the way your teeth feel afterwords!
Thieves Bar Soap
Young Living's bar soap is another item I hear lots of people talking about, so I thought I'd give it a try this time!  I'm always looking for a good natural bar soap for the shower.  This comes in several different varieties, but I just love Thieves in general so I thought I'd try this variety first.
Thieves Mints
I had totally forgotten that they came out with these Thieves Mints around Christmas!  My husband had these junky mints he bought that I was eating, and I thought, why doesn't anyone make mints made with essential oils?!  SERIOUSLY.  You know, sometimes I surprise myself with the things I miss.  Anyways, I finally remembered Young Living had these and decided to try them this month!
KidScents MightyZyme
Yup, if you've followed my posts any length of time, the MightyZymes are a regular for us.  This is a children's digestive enzyme, and I give one to each of my kids each day, after dinner.
R.C.
We love R.C.  We will either rub it on the chest or feet, and we also love to diffuse it.
Peppermint
Peppermint is definitely another staple for us.  I carry a bottle in my purse, and I keep one downstairs AND upstairs at home.  Just replenishing our supply!
Geranium
Geranium has a very strong floral scent, it smells super good diffused with a complimentary oil.  It is also in lots of Young Living's beauty products, such as their ART Skincare line.  This was a free oil this month!!
Jade Lemon
I have been dying to try Jade Lemon!!  It seriously smells SOOO good, like regular Lemon on steroids… like candy!!  This was another freebie this month, and I am super excited to begin using it.
The extra bonus for me was that I got to see the brand new labels for the first time in person!  Beautiful!!  Thanks so much for stopping by and peeking into my monthly goodie box with me.  :)
*Disclaimer:  The information on this website is based upon my research and personal use of Young Living Essential Oils. I am not a doctor. Statements, products, and techniques mentioned have not been evaluated by the FDA and are not intended to diagnose, treat, cure or prevent any disease.  Read the full disclaimer here.