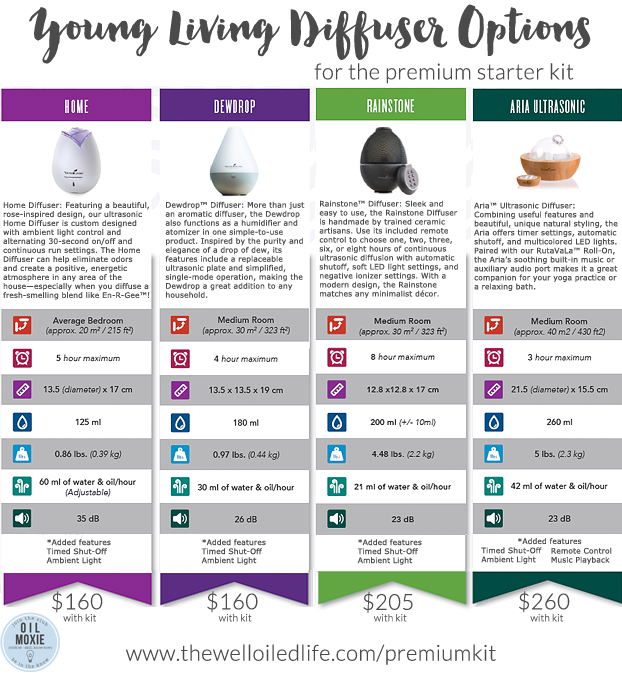 With Young Living's new Premium Starter Kit, you can now choose which diffuser you'd like!  But the obvious question is, "What is the difference between the diffusers?!"
The chart above shows you the differences in terms of their looks, the area they can cover (average bedroom vs. medium room), max run time, dimensions, weight, output, noise levels, and additional features.  Do note that they all have lights that can be turned on or off.  (I love that the lights turn off so they can be used in bedrooms at night!)
Something else to note is the type of water they take.  The Aria Diffuser takes distilled or filtered water.  The Dewdrop Diffuser and Rainstone Diffuser take tap water.  The Home Diffuser takes distilled water. This is something to consider if you don't normally keep distilled water in your home!
My personal favorite is the Dewdrop diffuser, which is great because it is the lowest-cost option of the bunch, and it takes tap water.  The price of the Premium Starter Kit is determined by the diffuser you choose.
To see a full list of diffuser options Young Living offers, please see this diffuser comparison chart.  Then diffuse those essential oils into the air!  :)
Save
*Disclaimer:  The information on this website is based upon my research and personal use of Young Living Essential Oils. I am not a doctor. Statements, products, and techniques mentioned have not been evaluated by the FDA and are not intended to diagnose, treat, cure or prevent any disease.  Read the full disclaimer here.