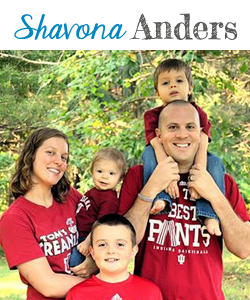 Shavona Anders

Young Living Member #2156571

Hello and welcome to my page! For those who do not already know, my name is Shavona. I am many things including a daughter, granddaughter, niece, cousin, sister, wife, friend and most importantly a mother. As a mom to 3 young boys making sure they are healthy and happy is my #1 priority. Recently, I have taken a leap of faith to achieve a healthier lifestyle and jumped into Young Livings Oils. I wanted better alternatives for my family and with essential oils the options are endless. I am just scratching the surface of knowledge on all of these oils but I am very excited to grow and learn more each day. As I learn and grow, I want to teach and share these oils and this lifestyle with others.
Now, whenever something happens in our house, I immediately look through my oils and try to figure out which oils could help. We use several oils on a daily basis in our home including, Thieves, Lavender, Peppermint and Lemon (Which are all included in the premium starter kit). I also now travel with several of my oils. When something arises while I am out and about, I am ready to take it head on. Essential oils are our new way of life. I am excited to continue learning and sharing my knowledge and experiences with everyone. It will be a fun journey and I am hoping to encourage and help as many people as possible. I would love for you to be a part of this journey and we can learn together. Hopefully this page is helpful in getting you started. As a bonus for joining my team, not only will you be on the path to healthier living, but I will also send you your choice of an book or a healthy and stylish Diffuser Necklace! Please feel free to contact me with any more questions you might have! Happy oiling!
Learn About Oils...
If you are interested in learning more about using Young Living essential oils, the
Essential Oils 101 online class
is a great place for you to find out what essential oils are, why they work, how they can be used, and more!
Start Using Oils...
Enrolling with the Premium Starter Kit is the most cost-effective way to start using the oils.  The Premium Starter kit comes with 11 oils (5ml each), a Diffuser, and a wholesale membership! (save 24% on future purchases!)  In addition, you will have access to our Oil Moxie support system!  Please feel free to get in touch with any questions you may have.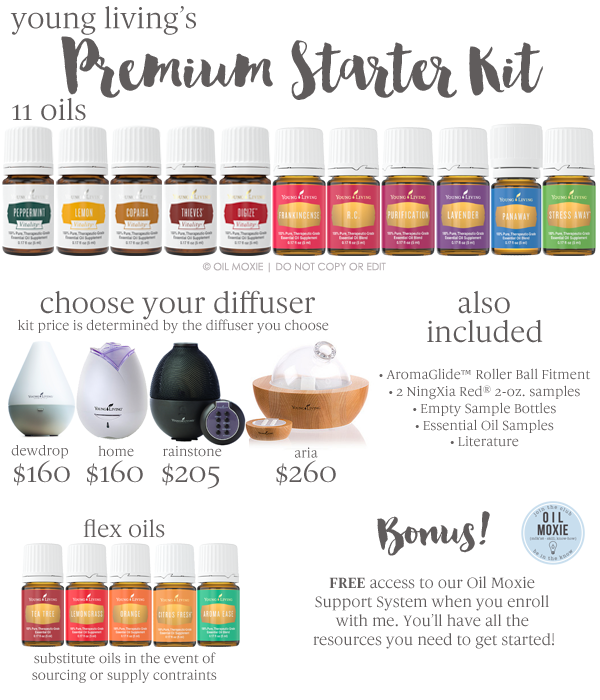 Click the button below to signup:

Instructions to fill out the signup form for the Premium Starter Kit:
Choose Member
Choose your country & language preference
Be sure the Sponsor ID/Enroller ID fields are filled out with my Member ID, listed above.
Choose your Premium Starter Kit.  I recommend the Premium Starter Kit with Dewdrop Diffuser, but choose what works for you.
Choose whether to enroll in the Essential Rewards program.  This is Young Living's customer loyalty program where you can earn free product, and it is completely optional.  You can opt into this autoship program at a later date as well.
Either Add Additional Products to your cart, or proceed to check out
Fill in personal information (address, email, phone number)
Select a user name, password, and 4 digit PIN (please write these down!)
Fill in Commission Processing Information (this relates to whether you plan on receiving commissions from Young Living by having people order under you)
Check the box to agree with Young Living terms
Choose shipping method and enter payment information
Review cart and be sure to select ACTIVATE AND PLACE ORDER
You're all set!! 
If you have any trouble ordering, please contact Young Living at 1-800-371-3515. 
If you have questions before you enroll, please contact me!