Hi there!  I want to tell you about my amazing experience with Young Living peppermint oil for headaches.
Horrible Headaches
I never used to get headaches, but recently I've been getting a horrible headache about once a month (yes, around 'that time').  But I'm not talking about a dull, semi-annoying headache… I'm talking about the kind of headache that makes you nauseous, unable to think clearly, extremely irritable, and feeling like you're out of commission for the day.  None of the OTC pain relievers (Aleve, Extra Strength Tylenol, Advil) would even touch these headaches.  The only thing I could count on to take them away was Excedrin Migraine.  I know, I know… the side effects of this drug are not good.  But I've got 2 little ones to take care of!  When I'm faced with a headache like this, I NEED something so I can make it through my day!
Where's My Medicine?!
Well, 'unfortunately' for me, I ran out of my Excedrin Migraine several months ago, and I was looking for it every time I was out… at Walgreens, CVS, Target, really anywhere with a pharmacy!  I don't know whether they stopped making it, but I just couldn't find it.  My monthly headaches became really debilitating when I had nothing to take them away or even take the edge off!
Can Oils Help?!
Fast forward a bit… I had ordered a Young Living Everyday Oils kit.  Included in this kit is Peppermint Oil, which I had briefly read could help with headaches.  I remember thinking, Yes, maybe for a normal headache, but not the kind that knock you down for the day.  Sure enough, I woke up with a horrible headache shortly after my kit arrived.  I lived with the headache about half the day until I decided I was willing to try anything to take the edge off.  Remembering what I read about peppermint and headaches, I grabbed my oil and I did what the Essential Oil Desk Reference said… I rubbed the peppermint oil on the back of my neck, behind my ears, on my temples, on my forehead, and under my nose.
The Peppermint Works!!
After a minute or so, there was an intense cooling sensation in all the places where I had rubbed the oil.  After about 5 or 10 minutes, I could feel a dramatic lessening of my headache.  After about 15 minutes, my headache was about 90-95% gone!  A few hours later, I could feel the headache working its way back, so I rubbed another drop of peppermint oil into all of the previous spots, and again it worked amazingly well.  I was a believer in the oils before, but this was just one more thing to show me how powerful they are!!
Rub it Right on the Headache
I've since realized that if I take a drop of peppermint and rub it directly onto the area of my head that hurts as soon as I feel a headache coming on, I'm able to get rid of my headache entirely.  So if my headache is on the top of my head, I just take a drop and massage it in right over the area that hurts.  It is truly amazing!
Or Roll it on the Headache…
I was telling my chiropractor about how awesome the peppermint is for headaches, and obviously I am late to the party!  She said she puts a roller ball on the peppermint just so she can roll it on when she feels one coming… even better, she gave me an extra roller ball for my peppermint oil!  (I got two bottles of peppermint with my kit, so I can still use the regular dropper-top in one and use the roller ball on the other).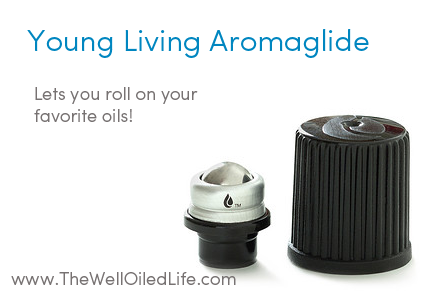 In case you're curious about these roller balls (technically called "Aromaglide"… fancy!), they can be purchased in packs of 10 from Young Living.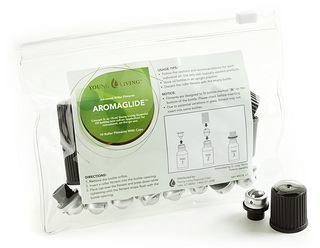 There are lots of oils that can help with headaches, it's just that I had the peppermint on hand, and it is one that is known for helping headaches.  Young Living actually makes an oil blend specifically for migraines and headaches called M-Grain.  I'm thinking if little ol' peppermint can be so powerful, a blend made specifically for migraines would really knock it out!  If at one point in the future I need something stronger (but let's hope not!), I will be ordering M-Grain.
I'd love to know if you use peppermint oil for headaches, or if you use another oil that works equally as well for you!
Thank you so much for visiting!  If after reading this you've determined Peppermint is an oil you'd like to try, it is part of the Premium Starter kit!  Of course it can also be purchased individually.
Here's to living a well-oiled life!
Disclaimer:  The information on this website is based upon my research and personal use of Young Living Essential Oils. I am not a doctor. Products and techniques mentioned are not intended to diagnose, treat, cure or prevent any disease.  Read the full disclaimer here.