I had the privilege of attending Young Living's annual Convention a couple weeks ago, and one of my TOP experiences was getting to see the new products as they were released!!  There are so many great new products, but one of the ones I am most excited about is the new KidScents Oil Collection!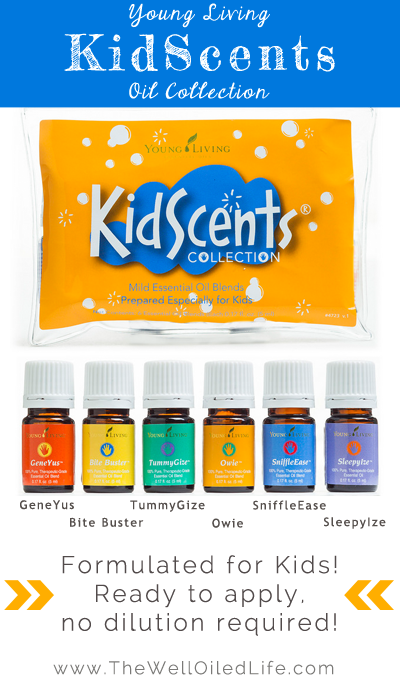 The oils in the KidScents Oil Collection are mild essential oil blends prepared especially for kids… no dilution necessary!  These blends have already been diluted with coconut oil and are ready to use straight out of the bottle, which any mom applying oils to a wiggly child knows is a great benefit.  The kit also comes with 2 roller ball tops, suggested for the TummyGize and Owie blend for easy application.
There are six 5ml oils in this collection, formulated especially for children:
GeneYus – Sacred Frankincense, Blue Cypress, Cedarwood, Melissa, Blue Spruce, Palo Santo, Galbanum, Bergamot, Myrrh, Sandalwood, Geranium, Rosewood, Ylang Ylang, Hyssop, Black Spruce, Rose
Bite Buster – Idaho tansy, Citronella, Palo Santo
TummyGize – Spearmint, Peppermint, Tangerine, Fennel, Anise, Ginger, Cardamom
Owie – Idaho balsam fir, Tea tree, Helichrysum, Elemi, Cistus, Hinoki, Clove
SniffleEase – Eucalyptus blue, Palo santo, Lavender, Dorado azul, Ravintsara, Myrtle, Eucalyptus globulus, Marjoram, Pine, Eucalyptus citriodora, Cypress, Eucalyptus radiata, Black spruce, Peppermint
SleepyIze – Lavender, Geranium, Roman chamomile, Tangerine, Bergamot, Sacred Frankincense, Valerian, Rue
One thing to note… when I had the chance to smell these, I was thinking that TummyGize was going to smell like DiGize (which I don't particularly care for, even though it works amazingly well!).  Nope!!  TummyGize smells really pleasant and is a completely different blend than DiGize – just thought it was worth noting!!
The kit comes in a plastic zippered case, so it will be easy to throw in a diaper bag or purse.  The ready to use oils (a.k.a. no dilution required!) make them a cinch to use – I am thrilled about the new KidScents Oil Collection!  What a great addition to the Young Living product line!!
You can get this kit and all other products at 24% below retail cost when you become a wholesale member!