As I was writing my post earlier this week talking about getting to spend the summer with my kids and husband, it dawned on me with fresh eyes what a blessing our Young Living business has been to our family.  Sometimes when you're so close to a situation, you fail to see it for what it is… but I had a moment of complete clarity this week when I realized, REALLY realized, how thankful I am for our Young Living business.
Three Years Ago
Three short years ago, our lives looked nothing like this.  My husband was in corporate America, traveling every week… and had been for a few years.  I felt like a single parent for a few days each week, and over the course of a few years, we had both reached a point of burnout.
Our kids didn't even ask where Daddy was anymore because it was the norm for him to be gone from home for a few days at a time.  I was tired and overwhelmed, as we had operated in this mode for several years.
Enter Young Living
I didn't know a single thing about Young Living or about the oils, but I had wanted a bottle of Thieves oil.  At the time, Young Living was running a promotion for new enrollees, and I thought What the Heck.  I'll go ahead and sign up just so I can get oils at a discount if I end up liking them.  I had absolutely ZERO intention of ever doing the business.  I hated really disliked the idea of network marketing and was NEVER going to tell anyone about the oils (?)… I just wanted to buy them cheaper.
At the time I had just dissolved the LLC for my photography business, as it started taking up too much of my time.  I was doing photo shoots in the evenings and on weekends, and then I would have to spend 8+ hours editing each session.  I was doing all this with 2 little kids and a traveling husband, and what started as a hobby began feeling like W.O.R.K. just because of the time commitment.  When my husband was home, the last thing I wanted to be doing was going on photo shoots or editing pictures.  So when I joined Young Living, I was NOT looking for another 'opportunity', 'job', or anything else that was going to take my time!
Our family had seen some awesome health benefits of the oils, so my mom suggested I start a blog where I could share about the benefits of the oils.  What you might not know is that I am a serial blogger, apparently… I have several of them!  At this point I had 4 blogs I was maintaining!  ?  Again, I had just put the brakes on what was a time-sucker for me (photography), and I really didn't want to start yet another project (this here blog).
But after I stopped my photography business and had some free time again, for some reason I again thought What the Heck.  I'll start this little blog and start sharing about the wellness benefits of the oils.  It will be a creative outlet for me.
Hello, Readers!
For reasons unknown to me, people started reading my blog!  They would ask me to contact them so I could answer questions, they wanted to know what becoming a Young Living member meant, they started signing up to become members… it was so crazy!
I loved having a sense of purpose and being able to help people with their wellness goals.  And it was so exciting getting to know a network of like-minded people!
Adios, Corporate America!
By the grace of God, awesome people started joining our team, and our Young Living business started taking off… to the point that my husband was able to leave corporate America and take his dream job as a college professor – all because of the income our Young Living business was generating.  I do not say this lightly – this was an answer to prayer.  You can ask anyone who was in my small group at the time (a group of people from my church who met together each week).  This was a constant and consistent prayer of mine during our weekly get togethers, that my husband would find a job where he was home more.
Never in a million years did we think God would bring Young Living into our lives, allow it to take off, and that my husband's new job might be his dream job of being a professor at the college we both attended!  He always knew he wanted to teach eventually, but we figured that would be years down the road… when either a) we won the lottery (ha!), or b) when the kids were out of the house, we were retired, and he was looking for something to do to give back.
But God had a plan… crazy doors opened at our old university, and Young Living grew to the point where it was feasible for him to leave corporate America and take the job!
Our Life is So Different!
It's crazy to think how different our life is now.  Instead of traveling and being gone 2-3 days every week (and sometimes more), my husband is now off for nearly 4 months in the summer and 1 month at Christmas!  He's often home during the school year in time to pick the kids up from school! We are able to make so many memories as a family that I would never have dreamed possible.  Rather than not even registering when Daddy was gone, I think my kids now prefer being with my husband instead of me, because everyone knows dads are more fun than moms!!  ;)  It couldn't make my heart any happier.
So when I say Young Living has truly blessed our family, I mean that with all my heart.  Young Living's mission is Wellness, Purpose, and Abundance, and I can confidently say I have experienced all of those things and more.  I have met some amazing people along the way, many of whom I get to work with in my team, and I'm so so thankful that God led us to Young Living.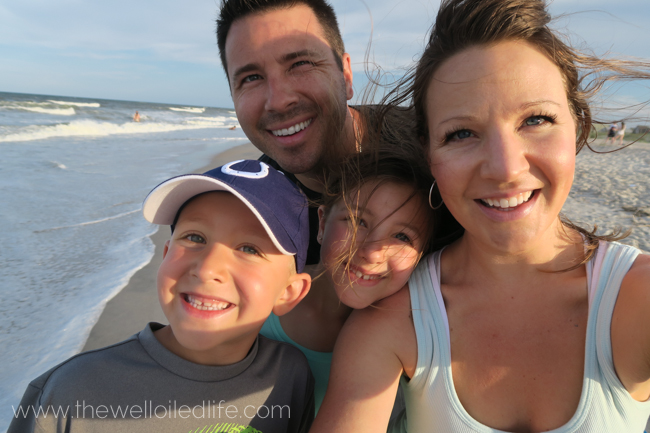 And the Network Marketing Part?
And Network Marketing that I was so opposed to?!  I am now convinced it is one of the best business models out there.  You don't succeed until you help others on their journey of success.  It really is a pay-it-forward model where everyone benefits and people's lives can be changed.  You meet some awesome people along the way… there are people on my team I have never actually met in real life but I consider friends.  We're all working toward the same goal, and let's face it – it's way better to do something with people you like than to do it alone!
If you're interested in starting your own wellness journey or even more, a business endeavor, I'd be honored to help you!!  Don't hesitate to reach out to me with questions.  :)  You, too, can experience the Wellness, Purpose, and Abundance that Young Living offers!  :)
PS – if you're curious about the business, read my post 4 Reasons Young Living Makes a Great Business Venture!
You can read Young Living's Income Disclosure Statement here.
Save
Save
Save