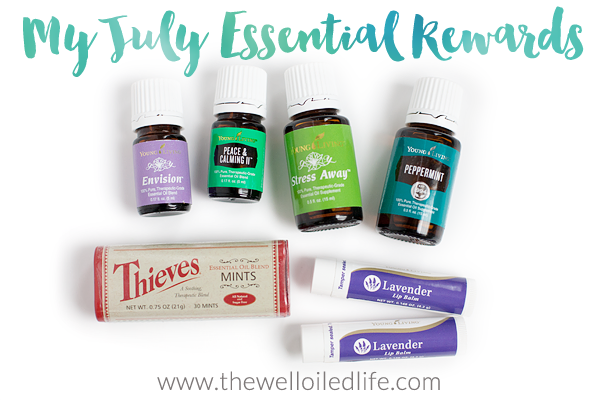 Christmas in July!  That's how I felt when this month's goodie box (aka my Essential Rewards order) arrived.  I had some great stuff arrive this month, here is a peek inside my box…
Envision
Envision is a Young Living essential oil blend, it contains Spruce, Geranium, Orange, Lavender, Sage, and Rose.  It has a really great, unique fragrance, and it smells GREAT in the diffuser.  I got this for a gift for one of my teammates.  ;)
Peace & Calming II
I LOVE this stuff!!  This is my first bottle of Peace & Calming II, I have been hoarding my last few drops of original Peace & Calming since it has been out of stock.  I wasn't sure how this alternate oil was going to compare to the original, but I love it just as much!  The scent is almost identical to the original, perhaps a bit more citrus.  I love using this on myself or my kids before bed, to help wind down.  We do just a drop on the wrist, then rub them together.
Stress Away
Oh Stress Away, I LOVE this oil.  Muah. <3
Peppermint
Just getting low on my Peppermint!  If you've followed my blog at all, you know that I don't go without this oil!  It's in my purse, in my kitchen, and in my bathroom with the rest of my oils.  We love using it for digestive support.
Thieves Mints
I ordered the Thieves Mints last month for the first time, and they were a hit!  They are not too spicy, even my kiddos love them.  There are 30 mints in this container, I'm sure I will be ordering more next month.
Lavender Lip Balm
I discovered the Lavender Lip Balm a while back, and seriously this little gem is a must try.  The texture is phenomenal, and I keep these all over my house – one in our kitchen, in my makeup drawer, by my nightstand, and in both my kids' rooms.
Thanks for taking a peek into my monthly goody box… did you try anything fun this month?!