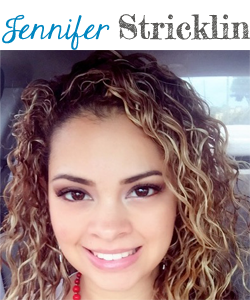 Jennifer Stricklin

Young Living Member #2171491

I am so glad you are interested in Young Living essential oils!!!  I am a dance instructor as well as a Pre-K Special Education Teacher and have been using Young Living Oils for a year now. I first heard about Young Living from a teacher at a conference. I went home and started doing some research and asking questions.  I started out with a starter kit and I was very amazed with how great the oils help, I have so many stories.  I use these oils for myself and my family every day.  I'm happy to answer any questions you have about getting started!
Learn About Oils...
If you are interested in learning more about using Young Living essential oils, the
Essential Oils 101 online class
is a great place for you to find out what essential oils are, why they work, how they can be used, and more!
Start Using Oils...
Enrolling with the Premium Starter Kit is the most cost-effective way to start using the oils.  The Premium Starter kit comes with 11 oils (5ml each), a Diffuser, and a wholesale membership! (save 24% on future purchases!)  In addition, you will have access to our Oil Moxie support system!  Please feel free to get in touch with any questions you may have.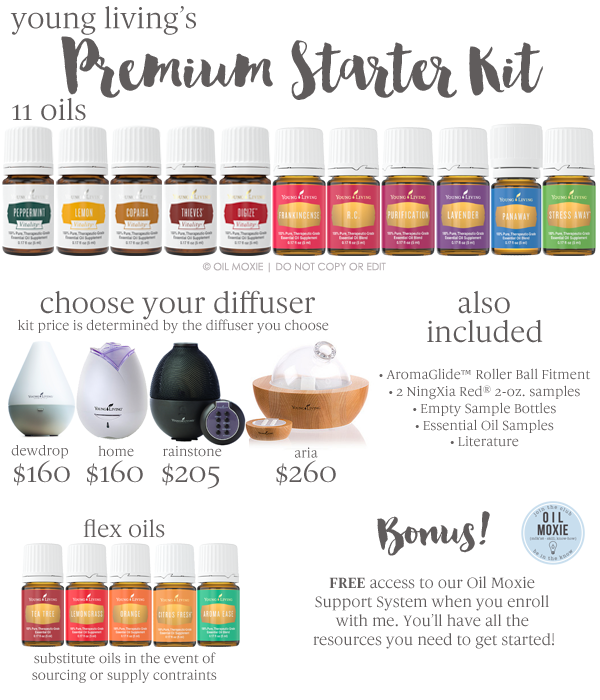 Click the button below to signup:

Instructions to fill out the signup form for the Premium Starter Kit:
Choose Member
Choose your country & language preference
Be sure the Sponsor ID/Enroller ID fields are filled out with my Member ID, listed above.
Choose your Premium Starter Kit.  I recommend the Premium Starter Kit with Dewdrop Diffuser, but choose what works for you.
Choose whether to enroll in the Essential Rewards program.  This is Young Living's customer loyalty program where you can earn free product, and it is completely optional.  You can opt into this autoship program at a later date as well.
Either Add Additional Products to your cart, or proceed to check out
Fill in personal information (address, email, phone number)
Select a user name, password, and 4 digit PIN (please write these down!)
Fill in Commission Processing Information (this relates to whether you plan on receiving commissions from Young Living by having people order under you)
Check the box to agree with Young Living terms
Choose shipping method and enter payment information
Review cart and be sure to select ACTIVATE AND PLACE ORDER
You're all set!! 
If you have any trouble ordering, please contact Young Living at 1-800-371-3515. 
If you have questions before you enroll, please contact me!