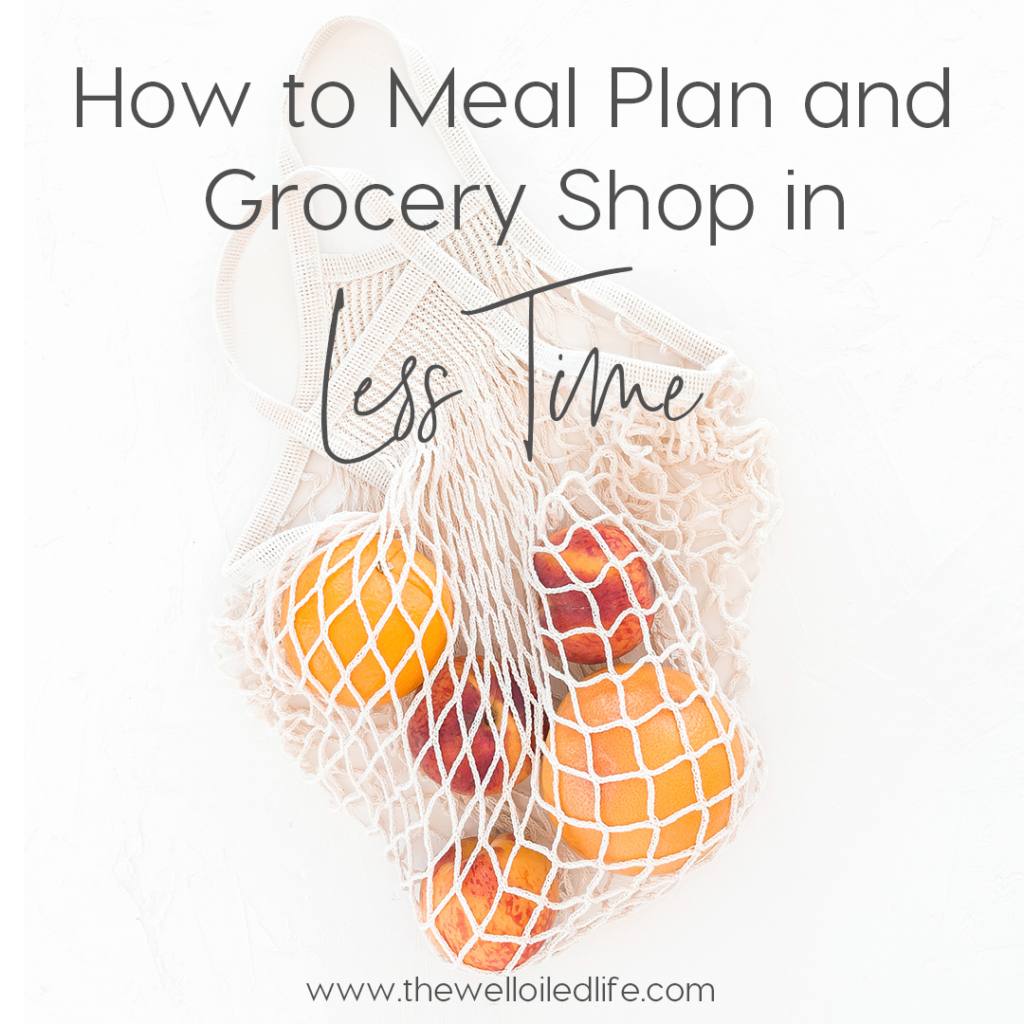 Meal planning and grocery shopping are probably some of my least favorite things to do. ? However, making meals from scratch most nights and having real food in my home for my family is one of my top priorities!  So what's a girl to do?!  Well, you figure out a way to do it well and do it as quickly as possible!
I've been meal planning and grocery shopping this way for years, so this little process of mine has been refined and works very well for me.  I'm sharing it with you in case you're in the same boat of wanting to meal plan and grocery shop quickly, but maybe you don't know where to start.  Or maybe you just want to do it a little more efficiently.  Or maybe you just want to take a peek inside someone else's process.  Either way, here's what works for me, take any parts that serve you and leave the rest!!
Note: I HAVE tried different recipe apps before, but because I shop with an organized-by-aisle grocery list (more on this below), the apps were taking me longer to use than doing it by hand.  PLUS I love to be off technology any chance I can, so after much trial and error, a paper-based system works best for me.
Currently I meal plan on Thursdays and grocery shop on Fridays, and then I don't have to think about it the rest of the week.  We have our plan and all the groceries, so dinner time is a (mostly) smooth affair every night!
The Binder (aka my Recipe Bible)
The first part of my process involves this little binder here (or rather, this very large binder ?).  In it are ONLY recipes that my whole family likes.  I should begin by saying that fortunately my kids aren't very picky eaters, so I definitely have that on my side.  They have been eating what we eat ever since they were little, plus I try to stick to flavors I know they will really like, so they are willing to adventure out with me a bit on new recipes!
I try to make at least one new recipe every few weeks or so, and when it's a hit, it goes into a plastic sleeve in the binder.  (If it's not a hit, into the trash it goes!)  This is how we've accumulated our recipes over the years.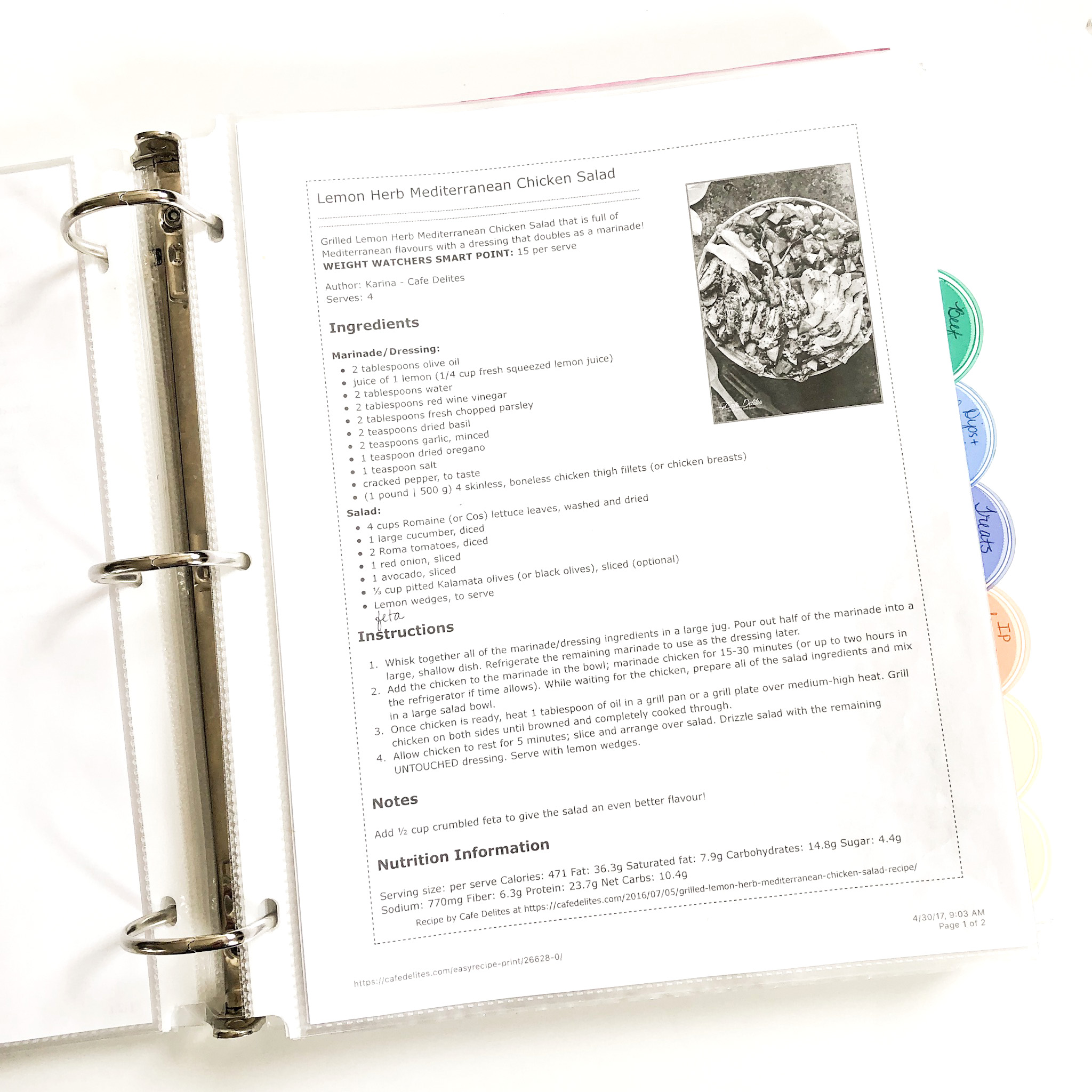 I have my binder separated with tabs according to category – Meatless, Chicken, Beef, Spice Mixes, Instant Pot (recipes that are IP specific, like hard boiled eggs in the IP or corn on the cob in the IP, etc), Treats.  What *might* be more helpful is to organize my binder by Quick Meals, Slow Cooker Meals, Weekend Meals – that might make my meal planning process go a bit quicker as I'm planning out my week.  Maybe one day I will switch it. ?
So the first thing I do when I sit down to meal plan is to grab The Binder and my calendar.  That way I can see what activities or meetings are happening in the evenings and plan accordingly.  Is it going to have to be an early dinner?  I'll find something that is quick to make so I don't have to start cooking in the afternoon!  Someone has a play that lasts til 6:30?  I'll plan a slow cooker meal so it is ready when we get home, instead of starting a meal from scratch that late.  Normal night?  Plan anything!
I know all the meals in The Binder are meals my family likes, so I just pick and choose based on what meals work with our schedule.  I'm also mindful not to plan, say, 3 meals with ground beef in a row, or back-to-back Mexican nights.  If we have meals that require a lot of produce (like grilled chicken salads, for instance), I usually plan those for the beginning of the week versus the end of the week, so the veggies are all still fresh when I make it.
The Post-It
Once I know what the calendar looks like, I'll make out my meal list on a post-it note based on our schedule and stick it to the side of the fridge.  My kids LOVE to eat and reference this list nearly every afternoon to see what's for dinner. ?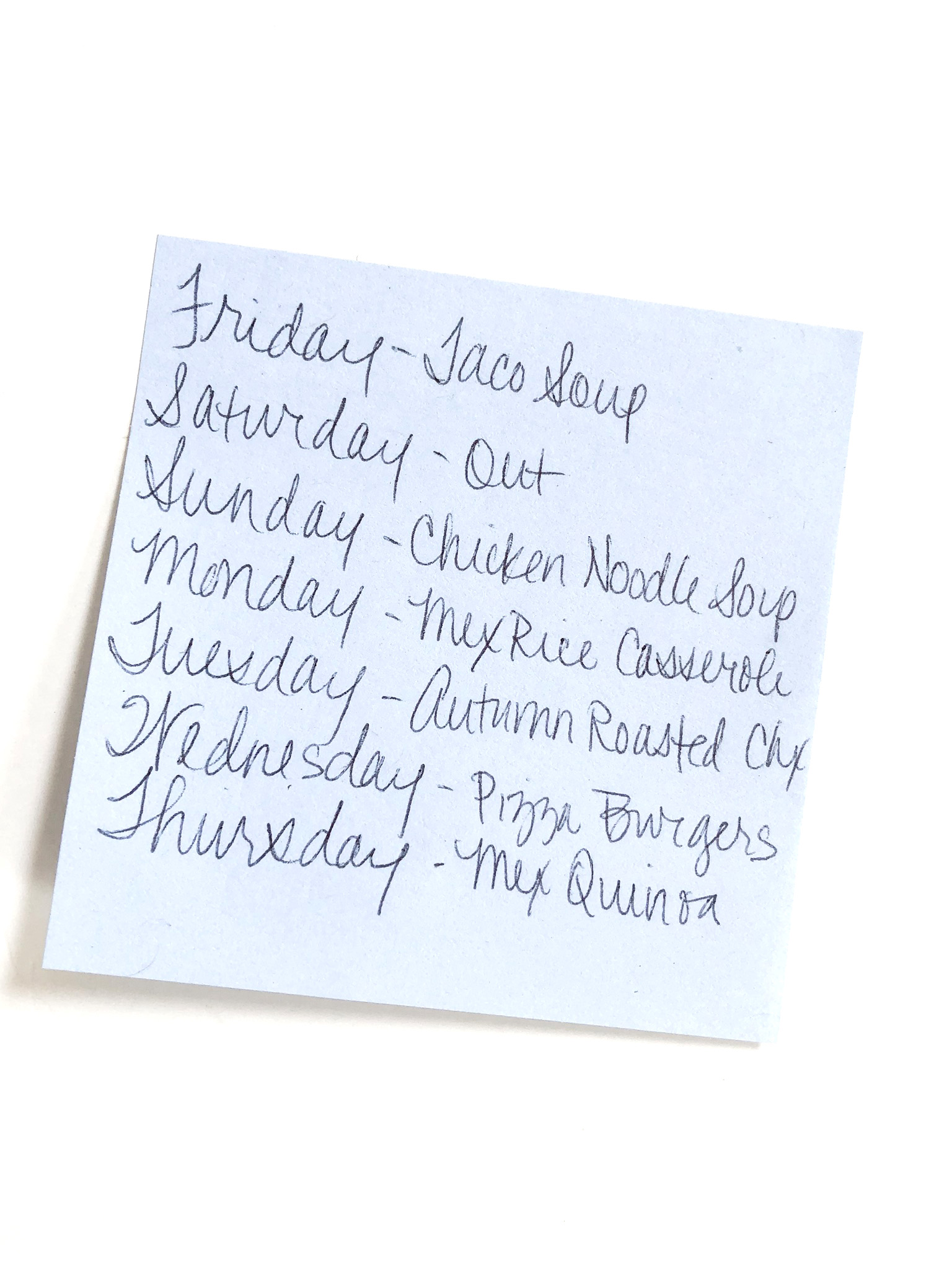 The Grocery List
Here is where I get really nerdy.  This came about because when my daughter was a baby, I had about 20 minutes in the grocery store before she would go into full-blown ugly cry mode in the store, and I would start sweating.  So I needed to devise a way to get all my grocery shopping done WITHOUT backtracking into aisles I had already been in!  My solution was to come up with a paper shopping list organized by grocery aisle, so I could just write what I needed in that aisle on the paper.  This saves me a TON of time when shopping!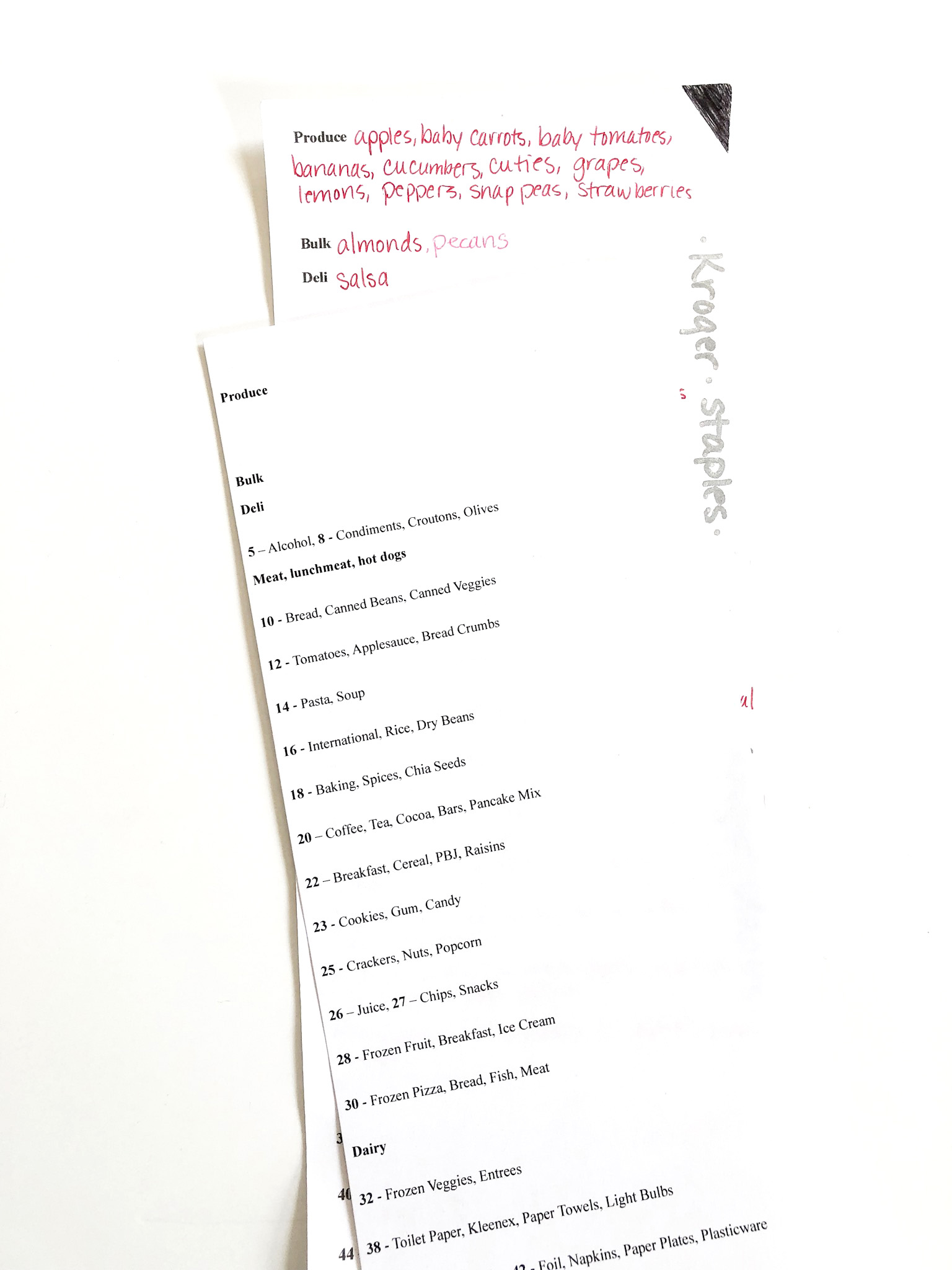 My kids are way past the baby-screaming stage now, but because I still like to be efficient and get in and out of the store as fast as possible, I still use my *special* list!!  Ha!!!  I was totally the weirdo in the store taking pictures of the different aisle signs so I could come home and make my grocery list out of all of them. ? Seriously, though, don't knock it til you try it – it WORKS if you like to be efficient!  As a disclaimer, I don't like to roam the grocery store, I know some people do.  If it's not on my list, it doesn't go in my cart.  I don't browse, peruse, or otherwise wander the grocery store looking for goodies.  My husband loves to do that… but me? I'm on a mission when I go.
After I have all the meals on my Post-It, I just write down all the ingredients I'll need on my categorized grocery list.  THEN, I'll take my "Staples List" (this is a list with just our staples on it) and write down any of the staples we're out of.  Pro tip – keep your Staples List written in a different color, like red, so you don't accidentally take that one to the grocer store thinking it's your whole list.  OR you don't accidentally start writing down all your groceries on your Staples List. #beentheredonethat
Coupons
The very last step I do is check to see if I have any coupons for things I am buying that week.  I generally don't use a ton of coupons because most are for items we don't buy, but our grocery store does a decent job at offering coupons on produce and more natural items!  I also recently started using the Ibotta app, which basically offers cash back on certain items.  It's pretty neat!  If you'd like to check it out, you can use my referral link here to get up to a $20 welcome bonus!
Shopping
Time to shop!  Because of my organized grocery list, I can shop for a weeks-worth of groceries in about 20-25 minutes.  And then I'm DONE for the week, just how I like it, ha!
Below is a video showing you this entire process.
I'd love to know your meal planning and grocery shopping hacks if you have any!  Share your tips in the comments below!  And be sure to join our Topknot Girls Community, to be the first to see these types of hacks and tips!