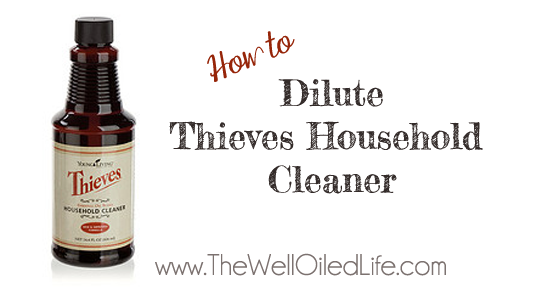 I must admit, this is embarrassing.  When I purchased my Young Living Thieves Household Cleaner, I was so excited to begin using it.  I could not wait to throw out my cleaners with harmful ingredients!  But you know what??  It sat under my counter for probably 2 months!!  Why, you ask?  Because I didn't know how to dilute it!!
To be fair, there are instructions on the back of the bottle, but they are in 'parts', as in 1 part cleaner to 30 parts water.  When I tried to look up info on 'how to dilute Thieves Cleaner', everything was talking about 'cap fulls'.  Well how much is 3o cap fulls equal to?  Clearly I could have pulled out some tablespoons and some teaspoons to see just how big a 'cap full' was and done some fancy math, but that always got pushed to the bottom of my to-do list, which is why my bottle of Thieves Household Cleaner sat unopened in my cabinet for 2 months!
One day I actually looked at the big spray bottle I had purchased for diluting my cleaner, and I realized it had OUNCE markings on the side!  DUH!!!  Wow.  I really can't believe I am admitting this publicly, haha!  Anyways, USE OUNCES!!  Like 1 ounce of cleaner to 30 ounces of water.  I almost didn't do this post, but just in case someone out there has a bottle of unopened Thieves cleaner under their sink…
*Disclaimer:  The information on this website is based upon my research and personal use of Young Living Essential Oils. I am not a doctor. Statements, products, and techniques mentioned have not been evaluated by the FDA and are not intended to diagnose, treat, cure or prevent any disease.  Read the full disclaimer here.